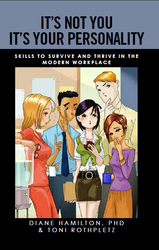 The latest book by Diane Hamilton and Toni Rothpletz helps you become more aware of yourself and puts YOU in charge of your life. ~Mark R. Grandstaff, PhD Award-Winning Scholar, Clinton Appointee, CEO Renaissance Thinkers
New York, NY (PRWEB) December 8, 2010
What drives the economy? People. People are behind every transaction. Business leaders will be the first to say that the most costly thing in business is personnel turnover. Unemployment is at 9.7%. This has led to an unstable work environment filled with a diverse group of workers. No matter what age, it is necessary to understand the different personality types that workers possess. For post-Baby Boomer generations, it can be a challenge to educate them about personality assessment, while still maintaining their interest. The recently released book, It's Not You It's Your Personality: Skills to Survive and Thrive in the Modern Workplace, may have the solution.
There is an undying stratification in how the "new generation" of workers relate to their older peers. Technology sets them apart. A feeling of entitlement is out there for many workers. Each experience in life creates the personality a worker brings to the table. Dr. Diane Hamilton and co-author daughter, Toni Rothpletz, argue that if Americans want to be successful, it's time to look inside and find out what inherently makes them tick. The authors explain how to do this in their fun and sometimes irreverent look at the current workplace.
It is essential for people to understand their own personality and to realize the impact their interactions may have on others. This is becoming increasingly more important as business owners and managers look to keep harmony among workers. Morale is important and if there is friction among personalities, managers are forced to make some tough decisions.
"Toni and I believe that it is the worker's responsibility to know their own personality and how their responses may be judged by others," says Hamilton, "If anything, this economy has shown us that it is essential that we take ownership of our roles in the workplace. We wrote this book to help the modern worker learn some important personality skills while still having fun in the process."
Personality tests can be an informative tool. Myers-Briggs, DISC, The Big Five, Birth Order, Color Tests, Emotional Intelligence and other top personality tests are used by employers to assess potential and current employees. Hamilton and Rothpletz argue that it gives workers a leg up to have these powerful self-learning mechanisms. There are so many personality assessments, it can get confusing to know which one to research. It's Not You, It's Your Personality explains the top assessments and shows readers that learning about themselves and their coworkers can be a lot of fun.
Mother/daughter team of Hamilton and Rothpletz, set out to edutain (educate and entertain) their post-Baby Boomer working world audience. If someone has ever wondered how their personality compared to famous celebrities like Lady Gaga or Johnny Depp, they may get some answers. However, one of the most valuable things they will learn from this book is why these personality tests are so important to their success and future ability to get ahead in the working world.
About the Authors:
Diane Hamilton currently teaches bachelor-, master-, and doctoral-level courses for six online universities. Along with her teaching experience, she has a Doctorate Degree in Business Management and more than twenty-five years of business and management-related experience. She is a qualified Myers-Briggs instructor as well as a certified Emotional Intelligence trainer.
Toni Rothpletz has a Bachelor Degree in Global Business Marketing and is currently working on receiving her MBA. She currently works as a business developer/sales executive in the computer industry. Her background includes working in several industries including computer software, identity theft, and social networking organizations.
To find out more about their writing or to schedule an interview, visit Dr. Hamilton's website at http://drdianehamilton.com or her blog at http://drdianehamilton.wordpress.com/.
Review copies are available.
It's Not You It's Your Personality–December, 2010 ($19.95/Amazon). ISBN: 9780982742839 Approximately 220 pages
# # #