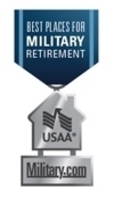 The list gives veterans a head start on planning both the second and third acts of their lives, which likely involves a new community, a new home and a new financial plan.
San Antonio, TX (Vocus) December 6, 2010
USAA and Military.com announced today that Waco, Texas, heads the first-ever "Best Places for Military Retirement" list. USAA and Military.com commissioned a study to create the list to pinpoint places in the U.S. that offer a high quality of life and help maximize military retiree benefits as service members manage their "first retirement" from the armed forces and begin planning their "second retirement" from civilian life.
The remainder of the top 10 list includes:
2. Oklahoma City, Okla.
3. Austin, Texas
4. College Station, Texas
5. Harrisburg, Pa.
6. San Angelo, Texas
7. Madison, Wis.
8. Pittsburgh, Pa.
9. New Orleans, La.
10. Syracuse, N.Y.
There are approximately two million military retirees as of 2009, of whom 28 percent are officers and 72 percent are enlisted. Generally, military retirees retire relatively early in life at the average ages of 42 for enlisted service members and 46 for officers.
"Most military members face two retirements—one from a military career and one from a civilian career," said Kevin O'Fee, assistant vice president of retirement strategies at USAA. "The list gives veterans a head start on planning both the second and third acts of their lives, which likely involves a new community, a new home and a new financial plan."
Ward Carroll, editor of Military.com and also a military retiree, added, "Military.com supports our military personnel throughout their lifecycle of service, including retirement and secondary careers. Tools like our Skills Translator and helpful information like the list of best places to retire is our way of saying thank you to those who have served."
USAA—a leading financial services provider focused on serving the military—and Military.com—the largest military and veteran membership organization—worked with Sperling's BestPlaces to develop the list. Researchers reviewed data on 20 different variables for 379 major U.S. metropolitan areas, which are defined as one or more central cities including the surrounding county or counties. Variables included:
Proximity to a military base and a VA hospital or clinic, base amenities and state taxation on military pensions.
Employment and education opportunities, including employment rates and presence of colleges and universities.
General quality of life issues, such as affordability, housing costs, economic stability, crime rate, climate, health indicators, airport access, arts and culture and recreational activities.
Each of the identified variables was weighted based on importance to military retirees and each metro area was given a score based on its total points for each variable. The metro areas were ranked based on these scores. Metro areas where the median housing cost was 40 or more percent above the national median were excluded from the list.
In addition to the overall ranking, USAA and Military.com developed four other lists that provide service members with the top 10 places to retire in large, medium, small and "military" metro areas. For more information about the lists, visit http://www.usaa.com/bestplaces and http://www.military.com/Finance/usaa-best-places-to-retire/2010.
About USAA
USAA provides insurance, banking, investment and retirement products and services to 7.8 million members of the U.S. military and their families. Known for its legendary commitment to its members, USAA is consistently recognized for outstanding service, employee well-being and financial strength. USAA membership is open to all who are serving or have honorably served our nation in the U.S. military—and their families. For more information about USAA, or to learn more about membership, visit http://www.usaa.com.
About Military.com
Military.com is the nation's largest military and veteran online news and membership organization serving active duty personnel, reservists, guard members, retirees, veterans, family members, defense workers and those considering military careers. Military.com enables Americans with military affinity to access their benefits, advance their careers, enjoy military discounts, and stay connected for life. Military.com is a business unit of Monster Worldwide Inc. More information is available at http://www.military.com.
# # #