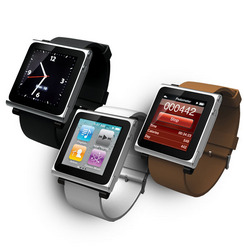 The most sensibly designed iPod nano watch strap to date -Engadget
(PRWEB) December 7, 2010
Frontal Concepts is pleased to introduce the Infuse, a sophisticated minimalist wristwatch accessory for Apple's iPod nano 6G. Infuse's uniquely designed mounting system, the WristlockTM Mechanism, allows you to easily "snap" your iPod nano in or out of the Infuse. The Infuse also orientates the iPod nano in an ergonomic fashion such that the earphone wire runs parallel to one's arm such that it will not be a hindrance to movement. Infuse's silicone straps are custom made from high quality material and finished with an anti dust coating. The Infuse has been designed to augment, not to obscure, the iPod nano's clean, modern look.
FEATURES
1. Minimalist and polished design
2. Orientates the iPod nano in an ergonomic fashion, such that the audio wire is parallel to your arm
3. Does not require you to unmount your iPod nano for connection to the computer
4. Firmly and securely mounts your iPod nano
5. Constructed using high quality plastics, silicone and stainless steel
AVAILABILITY
The Infuse comes in 3 strap colors, black, white and tan at an introductory MSRP of $24.95 USD.
It is available for order on the Frontal Concepts site.
For additional information contact:
Kendrew Wang
65.9171.4278
press(at)frontalconcepts(dot)com
Frontal Concepts is a design house in Australia. Collectified Private Limited was established in 2010 to explore and manufacture accessories for technological products.
# # #