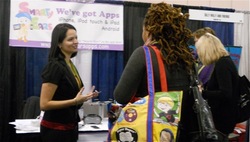 I think I want to buy an iPad just so I can buy this app
Desoto, TX (PRWEB) December 7, 2010
With over 200 vendor booths and some of the biggest names in Speech Therapy presenting on a vast range of topics, the annual American Speech, Language and Hearing (ASHA) convention has always been known as an exciting place to find materials and ideas to incorporate into therapy and share with parents. This year, however, it was hard not to hear the buzz about Smarty Ears, a company that for the last year has used the devices created by Apple® to improve the communication skills of children and adults with communication delays or disabilities Smarty Ears has developed over 15 apps for speech therapists, teachers and parents, including their newest application Articulate it!
Making its debut at ASHA, the application Articulate it! stunned public school therapists, home-health therapists, university professors, researchers and graduate students , with its sleek design, ease of use, data tracking, and professionally voiced audio; and those who will benefit the most are the children with communication and speech delays using it.
"I like that they are real photos" was commonly said amongst groups of speech therapists admiring a few of the over 1000 high resolution images. "I think I want to buy an iPad just so I can buy this app" said one home-health therapist excited over both the portability of the large library of images, and the audio modeling of the word upon clicking on an image.
The flexibility of the menu was what seemed to grab public school therapists interest the most, particularly the ability to work with multiple students. "You mean I can have one student working on phonological process while the other is working on a specific sound?" said one therapist in disbelief as she watched the app automatically take turns between the two students for whom she had selected different goals. "How many students can I work with at once?" she immediately asked energetically imagining its practicality in her classroom. Articulate it! in it's current version allows up to four students with specific goals for each student including one or more phonemes, one or more types of speech errors or one or more mode of articulation.
For others it is the total comprehensiveness of the data collection that garnered their interest. A pair of graduate students viewing the app gave a sideways knowing glance at each other, "you mean it's saving all this data as you mark correct or incorrect" she said astonished while her friend and fellow graduate student asked for confirmation, "we don't have to calculate the percentages; it does it all by itself?" Yet they were even more surprised when they realized that they could record the student saying the word and take notes on a given word, and it would all be stored in the data at the end. All this data is saved on the iDevice, storing all your therapy sessions so that you can track progress and with the additional ability to email the data afterwards.
Stopping by the Smarty Ears' booth, many wanted to "meet and greet" the person who has made their practice so much easier, and has already helped many children indirectly by providing fun and engaging therapy materials. The attendees asked with interests who created this? Barbara Fernandes, the practicing speech and language pathologist and creator of Articulate it! and all other Smarty Ears apps. "The smiles I see on the therapists when I show them our products: that's what makes this all worth it," says Barbara, "reading the several emails with positive comments and reviews about our apps is rewarding; however, meeting users and showing them how the app works in person I get to experience nothing but gratitude and enthusiasm. The enthusiasm and positive feedback is what keeps this company going." Apparently she's right; on multiple occasions demonstrations of the app to interested therapists were interrupted by individuals who already had it. These users would voluntarily offer their review, "I use this app, you'll absolutely love it". These kind of interruptions were welcomed, as the were a testament to the fact Articulate It! has not only created a buzz at the ASHA Convention, but everywhere around the country
Other Smarty Ears' Apps introduced at the ASHA Convention include Expressive, an entry level tool for Augmentative and Alternative Communication technology (AAC) users, and Match2Say, a new app that parents can use at home with their children to improve their articulation skills. All apps can be used on the iPad, iPhone® and iPod Touch®.
For more information visit http://www.smartyearsapps.com
iPad, iPhone, iPod Touch and Apple are trademarks of Apple Inc
ASHA is a trademark of the American Speech and Hearing Association.
# # #