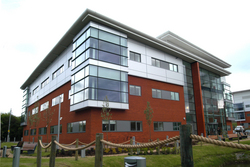 Computers are getting more and more powerful but the software hasn't kept up. Until the software is developed, the power of the new computers won't be realized
Roswell, GA (PRWEB) December 8, 2010
John Bancroft, Head of Business Development for the Science & Technologies Facility Council (STFC) located in the North of England, has been working in the U.S. this month to identify and develop strategic partnerships for the much anticipated Hartee Centre. The Centre is a key component of the UK's premier supercomputing campus and is home to the HPCx – the most powerful computer in the UK able to process 15 trillion calculations per second, offering computational modeling capabilities.
The race for the most powerful supercomputers continues with the U.S. holding five of the top ten spots on the Top 500 list, but the race to develop the software is far behind. The Hartree Centre plans to be a the top of that list.
On his two week tour, Bancroft met with key companies in New York, Boston, Chicago and San Francisco before capping off his trip at Supercomputing 2010 in New Orleans. His goal to encourage collaboration between American and UK innovators was centered not only around access to strongest computer in the UK, but also with inclusion in a truly collaborative environment geared toward the innovative software developers of tomorrow.
"Computers are getting more and more powerful but the software hasn't kept up. Until the software is developed, the power of the new computers won't be realized" states Bancroft, "Collaboration between hardware and software developers focused on high end computing is key to creating an environment where research is not based solely on academic curiosity but is firmly tied to application and economic benefit."
The North of England has a long history in high performance computing. Daresbury Labs pioneered the development of codes for parallel simulation that allow modeling a large number of processes simultaneously. The Hartree Centre is an extension of Darsbury's stake in computational science and will focus on collaboration with an overarching goal to provide a step-change in modeling capabilities focused on energy, life sciences, the environment and materials. With the HPCx's computational modeling capabilities, companies will be able to do large scale simulations like simulating a disaster in order to determine ways to help minimize damage.
"Supercomputers are no longer things that we talk about affecting us at some undefined time in the future." says Kristen Hirst of the North of England Agency ,"They are here now and will most definitely be a critical component in the development of new drugs, new sources of energy and environmental modeling. What we need now is software designed to tap into that power."
American companies of all sizes are moving into the STFC's premiere campus in order to branch into European computational science capabilities. Daresbury has developed a soft landing package to help smaller companies take advantage of the opportunities. Companies who fit the criteria can benefit from free office space for a year to help the transition easier and more affordable.
Science & Technologies Facility Council
The Science and Technology Facilities Council ensures the UK retains its leading place on the world stage by delivering world-class science; accessing and hosting international facilities; developing innovative technologies; and increasing the socio-economic impact of its research through effective knowledge exchange partnerships. The Council has a broad science portfolio including Astronomy, Particle Physics, Particle Astrophysics, Nuclear Physics, Space Science, Synchrotron Radiation, Neutron Sources and High Power Lasers. In addition the Council manages and operates three internationally renowned laboratories: The Rutherford Appleton Laboratory, Oxfordshire, The Daresbury Laboratory, Cheshire, The UK Astronomy Technology Centre, Edinburgh.
The Council gives researchers access to world-class facilities and funds the UK membership of international bodies such as the European Laboratory for Particle Physics (CERN), the Institute Laue Langevin (ILL), European Synchrotron Radiation Facility (ESRF) and the European Southern Observatory (ESO). It also contributes money for the UK telescopes overseas on La Palma, Hawaii, Chile, and in the UK LOFAR and the MERLIN/VLBI National Facility, which includes the Lovell Telescope at Jodrell Bank Observatory.
North England Inward Investment Agency
The North England Inward Investment Agency is a British Government-funded consultancy and UK-based inward investment agency whose role is to advise and assist North American companies considering UK/European expansion. Their services are free and confidential and include the provision of information on a wide range of important issues such as: market feasibility studies, business plan support, site selection, potential procurement of financial assistance/public grants, taxation issues, work-force training and recruitment, supply chain opportunities, skills availability, labor costs and regulations, market data, links and collaborations with Universities, introductions to key professional services and regulation advice.
###