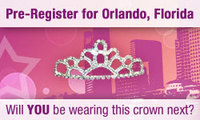 "Our pageants are about cultivating inner beauty, self-confidence, achievement, and self-respect. The result is pretty amazing."
Miramar Beach, FL (PRWEB) December 7, 2010
Recent years have seen a decline in the popularity of old-fashioned beauty contests like the Miss America Pageant and other child beauty pageants for younger girls and teens. There has also been a growing degree of criticism. America's Beauty Pageants (ABP) are aiming to change both of these issues according to Michael Mendelssohn, ABP Communications Director and President of The Mendelssohn Group.
"Times have changed," Mendelssohn says, "and so should pageants. Child Beauty Pageants have always given girls and their parents an opportunity to participate. But with America's Beauty Pageants, we've aligned the events with our mission to truly define beauty—the girls' inner beauty. We absolutely believe this and emphasize it—our pageants are about cultivating inner beauty, self-confidence, achievement, and self-respect. The result is pretty amazing."
America's Beauty Pageants holds pageants nationwide, as well as a national final, and calls their events, "pageantry with purpose." Participants age 7-19 participate in casual and formal dress and most importantly, in on stage and personal interviews. Mendelssohn says, "We put a heavy emphasis on interview sessions. Our participants love to open their hearts and share their goals and dreams. Even "shy" participants open up when we ask them what brings them joy. Unlike some other pageants, there are no swimwear or talent portions at any of the events sponsored by America's Beauty Pageants."
"No matter how much times change, young girls still grow up with that Cinderella princess dream," says Mendelssohn. "Our pageants give girls a fun way to achieve and live out that dream. What a lot of people miss is that our pageants work much like soccer or gymnastics, in that they give young girls a chance to try, learn, and grow, all in a dynamic that they care about and want. The takeaway? Girls have fun while growing, being themselves, and making friends."
America's Beauty Pageants kicks off its 2011 season in Orlando, Florida January 15th-16th. Additional host cities and much more can be found on their new website at http://www.AmericasBeautyPageants.com.
"I tell anyone," Mendelssohn says, "who wonders if this sort of thing is right for their girl, to go to our website, watch the videos of the participants and pageant directors, and read our testimonials from parents, judges, and participants. You'll understand and you'll probably want to get involved."
On the Web:
http://americasbeautypageants.com/
http://www.youtube.com/user/AmericaBeautyPageant
http://www.facebook.com/pages/Americas-Beauty-Pageants/155624207801561
http://twitter.com/ABPageants
###