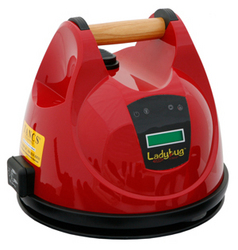 "Steam cleaners are like pressure washers for inside, they are very satisfying to use and we are proud to offer an extensive steam cleaner offering" - AchooAllergy.com CEO Cade McDonald
Altanta, GA (PRWEB) December 7, 2010 –
Always evolving their product offerings to best serve allergic customers, AchooAllergy.com's most recent focus has been on revamping and expanding the company's steam cleaners offering.
Aiming to provide quality steam cleaners to meet every need and budget, AchooAllergy.com has updated their repertoire to include various models of Ladybug Vapor Steam Cleaners, Reliable Steam Cleaners, and Vapamore and Gruene options as well. Customers can choose from hand held units, simple steam mops, combination mop and hand held units, and industrial strength vapor machines. To help facilitate selection, AchooAllergy.com has put together a Steam Cleaner Buying Guide, a Compare Steam Cleaners chart, and a Steam Cleaner FAQ.
Steam cleaners offer a number of benefits to allergy sufferers. Firstly, they offer allergy-free cleaning. By effectively cleaning notoriously difficult-to-clean places like ovens, tile grout, and grills, to name a few, steam cleaners eliminate the need for harsh chemicals that can lead to allergies, asthma, and skin irritation.
Furthermore, steam cleaners support allergen avoidance measures by reaching allergens in rarely, if ever, cleaned areas. Vaporized steam may be used to deep clean upholstery and mattresses, for example, where dust mites, pollen grains, pet dander, and other allergens lodge.
By using extremely hot temperatures, vapor steam cleaners are an allergy-friendly alternative to other upholstery cleaners, which may leave behind dampness that could cause mold growth. Vaporized steam dries so quickly, however, that mold is not a concern.
Steam cleaners come in a variety of shapes and sizes and are suitable for a variety of needs. For those who simply wish to use steam instead of the traditional bucket, mop, and floor cleaner, steam mops are the solution. Convertible steam mops offer the versatility of a hand held steam cleaner as well so that individuals can clean counter tops, showers, ovens, drapery, and more.
While allergy sufferers enjoy the benefits of cleaning without chemicals and enjoying the effect of reduced environmental allergens, non-allergy sufferers also love steam cleaners. Steam cleaners cleanse and sanitize with nothing but water, thus providing a superior "green" clean without harming people or the environment.
AchooAllergy.com specializes in allergy relief products that facilitate environmental control of allergens. For a decade, the company has been proud to offer the widest selection of allergy relief products, all meticulously tested for quality and effectiveness. Their super-fast shipping and exceptional customer service sets them apart from their competitors and demonstrates their unwavering dedication to helping their clients breathe better.
For more information please contact P. Cade McDonald, CEO.
###