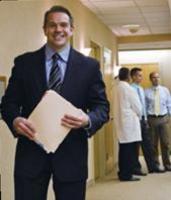 Dr. Wittig's surgical techniques are really cutting-edge in treating bone cancer…
New York, NY (PRWEB) December 8, 2010
Dr. James C. Wittig, Chief of Orthopedic Oncology in the Departments of Orthopedic Surgery and Director of the Sarcoma Divisions of the Cancer Centers, Mount Sinai Medical Center and Hackensack University Medical Center was recently profiled in the Fall 2010 Seton Hall Magazine for his unique, compassionate and precise role in treating musculoskeletal tumors. The recent profile entitled "He's a Life Saver" discusses how Dr. Wittig 'spends his days saving lives – and limbs."
In a specialty that is in itself rare by the numbers, with only 150 orthopedic oncologists in the country, Dr. Wittig handles each case with a positive approach and one that dismisses the notion of amputation as the 'standard of care' previously thought of as the norm.
Dr. Evan L. Flatow, Professor and Chief of Shoulder Surgery at Mount Sinai's Leni and Peter W. May Department of Orthopedic Surgery is noted as saying, " Jim's surgical techniques are really cutting-edge in treating bone cancer…most do one-year fellowships but Jim did two, training not only in orthopedic, but also learning vascular and plastic surgery techniques so he could bring all those disciplines to bear in saving and rebuilding limbs,." In 2008, as Mount Sinai was expanding its cancer center, Flatow said he wanted to recruit the "absolute top person in orthopedic oncology, so I naturally came after Jim."
Dr. Wittig's continuous, unprecedented approaches to treating musculoskeletal tumors as well as his sensitivity to the nature of these oncology cases – for adult and pediatric patients alike – are the perfect balance for those seeking and needing his care.
After recalling a patient who questioned whether another surgeon might be suitable, colleague Dr. Andrew Precora, '79, Chairman and Executive Administrative Director of the John Theurer Cancer Center at Hackensack University Medical Center, commented, "I reassured him Dr. Wittig was outstanding but Dr. Wittig encouraged him to see the surgeon at the other center. The patient went and realized Dr. Wittig made him much more comfortable and came back…that's emblematic of how he puts the interests of patients before himself."
The knowledge Dr. Wittig has gained in his chosen field is something he enjoys sharing with fellow colleagues and more importantly, those seeking to pursue a career in medicine as he did this past summer mentoring a sophomore biology major.
"As a Seton Hall alumni, I was thrilled to share a 'day in my life' with fellow alums and prospective students. As alumni expand their horizons, either by advancing in their respective chosen professions or with families, I am happy to be a resource if ever the need should arise." The full profile can be read at http://www.TumorSurgery.org or by clicking here
About Dr. Wittig
James C. Wittig, MD, specializes in limb-sparing surgery; pediatric and adult bone and soft tissue sarcomas; melanoma; benign musculoskeletal tumors; as well as complex hip and knee replacement surgery. He also has special expertise with regard to tumors that affect the shoulder girdle and scapula. Currently, Dr. Wittig is Associate Professor of Orthopaedic Surgery, Chief of Pediatric and Adult Orthopaedic Oncology and the Sarcoma Program at Mount Sinai Medical Center in New York City. Office within the Faculty Practice Suites, 5 East 98th Street, 9th Floor. as well as Chief, Orthopaedic Oncology and Director, Sarcoma Section of the Cancer Center, Hackensack University Medical Center. Hackensack office located at Continental Plaza, 433 Hackensack Avenue, 2nd Floor, Hackensack, New Jersey. He is a member of the American Academy of Orthopaedic Surgeons; New York State Society of Orthopaedic Surgeons, Inc.; and the Medical Society of New Jersey. He has published over 90 educational materials ranging from original reports, abstracts, videos and articles in the following publications: Clinical Orthopaedics and Related Research, The Journal of the American College of Surgeons, American Family Physician, Journal of Arthroplasty, Radiology and Journal of Bone and Joint Surgery. He is also a prominent lecturer in the field of Orthopaedic Surgery throughout the nation. To schedule a consultation with Dr. Wittig, please call his NYC office at 212-241-1807 or email DrJamesWittig at aol.com or visit http://www.TumorSurgery.org.
###