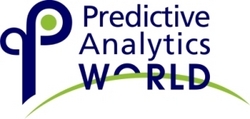 San Francisco, CA (PRWEB) December 8, 2010
Predictive Analytics World, the business-focused event for predictive analytics professionals, managers and commercial practitioners, today announced the comprehensive program for the March 14-15 2011 conference, which is packed with the top predictive analytics experts, practitioners, authors and business thought leaders, including keynote addresses from world-famous analytics researcher and author, Tom Davenport and Google's Sugato Basu, as well as special sessions from industry heavy-weights such as Andreas Weigend and John Elder.
Predictive Analytics World is part of Data Driven Business Week – March 14-15, 2011 – and will be featured as one of three co-located conferences designed to empower your business to strategize, analyze and optimize with data analytics. Predictive Analytics World covers today's commercial deployment of predictive analytics, across industries and across software vendors.
PAW's agenda covers hot topics and advanced methods such as uplift modeling (net lift), ensemble models, social data (6 sessions), search marketing, crowdsourcing, blackbox trading, fraud detection, risk management, survey analysis, and other innovative applications that benefit organizations in new and creative ways.
For more see http://www.predictiveanalyticsworld.com/sanfrancisco or view the agenda at-a-glance: http://www.predictiveanalyticsworld.com/sanfrancisco/2011/agenda_overview.php.
"Predictive Analytics World brings together the brightest and most influential minds in the Analytics Industry," says Eric Siegel, Ph.D., Conference Chair, Predictive Analytics World. "This event covers concrete examples of deployed predictive analytics. The leading enterprises have signed up to tell their stories, so you can hear from the horse's mouth precisely how Fortune 500 analytics competitors and other top practitioners deploy predictive modeling, and what kind of business impact it delivers."
PAW's San Francisco 2011 program is the richest and most diverse yet, including over 30 sessions across two tracks – an "All Audiences" and an "Expert/Practitioner" track – so you can witness how predictive analytics is applied at Bank of America, Bank of the West, Best Buy, CA State Automobile Association, Cerebellum Capital, Chessmetrics, Fidelity, Gaia Interactive, Google, HealthMedia, Hewlett Packard, ICICI Bank (India), Monster.com, Orbitz, PayPal/eBay, Richmond, VA Police Dept, U. of Melbourne, Yahoo!, YMCA, and a major N. American telecom, plus insights from projects for Anheuser-Busch, the Social Security Administration and Netflix.
About Rising Media
Rising Media is a specialized media company focused on the production of business technology-related conferences and exhibitions. Rising Media currently produces events including eMetrics Marketing Optimization Summit, Conversion Conference, Search Marketing Expo, Predictive Analytics World, Web Effectiveness Conference and Building Business Capability in the US, Canada, UK, France, Germany, Sweden and Spain. http://www.risingmedia.com
# # #