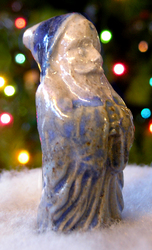 "Shhhh, the secret. . . we found Santa Claus," say Michael Cohill, director of the American Toy Marble Museum.
Akron, OH (PRWEB) December 11, 2010
Archeologists working in the heart of downtown Akron, Ohio found the oldest known figurine of a Santa and he's dressed in blue. They discovered him among thousands of old marbles and penny toys at an old toy factory that burned to the ground in 1904.
Brian Graham, archeologist, unearthed a secret that Akron had been hiding for more than 100 years. Graham found a small figurine of a bearded man with a blue hooded coat, no more than two and one half inches in height.
"Shhhh, the secret is," Michael Cohill, director of the American Toy Marble Museum, touches his finger to his lips, "we found Santa." Cohill's blue eyes twinkle like the small Blue Santa he holds in his hand.
"It's a wishing Santa" he explains. "You hold it in your hand and wish for the present you want for Christmas."
Doing extensive historical research for the Marble Museum, Cohill and Graham discovered the significance of the Blue Santa and how it was made. Cohill is now using those same, somewhat crude, historic mass-production methods to make reproductions of the Blue Santa.
"Like the marbles, they were made using a device patented by Samuel C. Dyke, founder of the company. It allowed one worker to make 800 to 1,000 clay marbles per hour; turned out at a rate of one million marbles a day, five box-car loads, six days a week.
"So significant was the economy of scale, that one penny could buy a handful of marbles or dozens of different penny toys. The Blue Santa was a penny toy," says Cohill, gingerly cradling the original Blue Santa.
"This was the birthplace of the modern toy industry. Previously, hand-made toys were so expensive only the wealthiest families could afford to buy a toy for their children. With the introduction of mass-production, for the first time in world history, all children could have a toy," says Cohill.
Other Akron area businessmen, watching Sam Dyke's success, started 32 additional toy marble factories. And, on the other side of Akron, entrepreneurs seeking new uses for rubber began mass-producing balloons, rubber balls, rubber duckies, rubber dollies and rubber baby buggy bumpers. In total there were 160 local toy companies in the greater Akron area.
Today, the Akron area is still a major toy-manufacturing center with companies like Little Tykes, Step Two, and Maple City Rubber (still the world's largest manufacturer of latex balloons).
Cohill goes on to say," When archeologists working at the site of the first mass-produced toy found the Blue Santa, at the birthplace of the modern industry, where from that point forward all children could have a toy, well then this Blue Santa is the real Santa (a metaphor on the miracle of mass-production) and we've discovered the original North Pole."
The Blue Santa is still on site, housed in a display case at The American Toy Marble Museum.
####