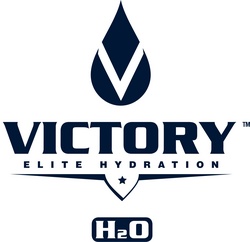 "As an athlete peak performance is the key to being successful in your sport. With VICTORY H2OTM promotion of hydration through our complete performance water, it will help our bodies with endurance, making us better athletes."
Atlanta, GA (PRWEB) December 10, 2010
NFL Super Bowl XLIII Champion Pittsburgh Steelers Keyaron Fox and celebrated Athletic Performance Manager and Health Specialist Eric Fears team up to introduce VICTORY H2O- Elite Hydration- Complete Performance Water; set to launch nationally January 2011. VICTORY H2O will debut as one-of-the-first water products promoting peak performance and an ultimate hydration experience in the market.
Created and co-owned by revered Performance Manager and Georgia Technical Institute alum, Eric Fears, known for personally managing the performance of NFL stars such as Hines Ward and Calvin Johnson, VICTORY H2O is purified by utilizing a specialized multi-stage purification process including Double Pass Reverse Osmosis, Ozone, and UV Light. This ultra premium alkaline water also contains Proprietary Enhanced Formula that delivers essential minerals and electrolytes for elite hydration and recovery.
Identified by its unique packaging and symbolic "V" water drop logo, Victory stands by its 4 Keys to Victory; Superior Quality, Iconic Lifestyle, Community Impact and Initiatives, and Refreshing Experience. "I was excited to join Team Victory," states co-owner and Chief Impact Officer NFL Linebacker Keyaron Fox. "As an athlete peak performance is the key to being successful in your sport. With VICTORY H2O promotion of hydration through our complete performance water, it will help our bodies with endurance, making us better athletes." VICTORY H2O contains no calories or artificial sugars and is distinguished by its pure, clean, smooth taste.
VICTORY H2O mission is "To provide an elite hydrating experience that that delivers the winners edge in every drop." VICTORY H2O is the key component to elite hydration. Peak performance cannot occur without proper hydration. VICTORY H2O is the daily essential for elite performers who are passionate about winning every aspect of life. Whether you are in the gym, on the field, in the boardroom or on the couch, you'll enjoy VICTORY H2O. Log onto the company's website http://www.victoryh2o.com to find participating retailers and to purchase direct.
About VICTORY H2O:
VICTORY H2O is a brand privately held and operated through Legendary Liquids, LLC based in Las Vegas Nevada. Owned and operated by Eric Fears, CEO and NFL Linebacker Keyaron Fox, Chief Impact Officer, VICTORY H2O -complete performance water- purified by utilizing a multi-stage purification process including Double Pass Reverse Osmosis, Ozone, UV Light and its Proprietary Enhanced Formula with emphasis on providing enhanced electrolytes and elite hydration when consumed daily. Victory stands by its 4 Keys to Victory; Superior Quality, Iconic Lifestyle, Community Impact and Initiatives, and Refreshing Experience. VICTORY H2O mission is "To provide an elite hydrating experience that delivers the winner's edge in every drop." "When Every Drop Counts…"
For more information log on to http://www.victoryh2o.com
###