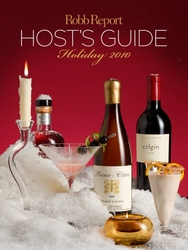 New York, NY (PRWEB) December 10, 2010
Robb Report, the definitive luxury lifestyle brand, announced today the launch of its newest venture: the interactive Holiday Host Guide iPad App, a dynamic and innovative resource for hosts who entertain with only the best wine, spirits, cocktails, glassware, food, cigars, and more. With its rich content and interactive tools, this enhanced digital experience establishes a new standard for iPad offerings, thanks to its more than 300 shareable items, extensive video, and multilayered functionality, which includes one-touch ecommerce capabilities.
The groundbreaking electronic guide provides users with state-of-the-art resources to acquire everything they need to host intimate gatherings or formal affairs in Robb Report style. The virtual wine cellar, with its lavish graphics, contains more than 100 new releases that the editors of Robb Report handpicked for the holidays, while a glassware function, like a digital sommelier, assists in choosing the right shape of Riedel crystal for each variety of wine. The interactive bar stocks more than 50 high-end spirits (including Hendrick's Gin, Glenfiddich Single Malt Scotch Whisky, Lillet and Elit by Stolichnaya), and its lively videos feature expert William Grant & Sons mixologists and ambassadors. Hosts in search of a signature beverage that makes a statement can peruse the app's dozens of cocktail recipes, which range from holiday drinks to time-tested classics and unusual, contemporary cocktails formulated by master mixologists exclusively for Robb Report. Finally, the easy-to-manage party-planning function generates a complete shopping list of all items users select and allows them to purchase any product featured in the guide (including fresh food and ingredients for cocktails) at the touch of a button.
Other highlights include an invitation builder and insights from experts and the world's top chefs on hospitality and etiquette, the best way to organize a menu, and more.
"We are excited about bringing our annual Holiday Host Guide to life with this engaging interactive application, and we look forward to transforming the way people approach party planning," commented Brett Anderson, Editor in Chief of Robb Report. "We are confident this application's dynamic video content, unique electronic-shopping capability and educational content will enhance the party-planning experience for everyone."
"It's very exciting for the diverse William Grant & Sons portfolio to be featured in the go-to guide for holiday hosting," commented James Curich, Public Relations Director, William Grant & Sons USA. "Our brand ambassadors bring a level of expertise and knowledge to the video content feature that will enhance any holiday party or gathering, and the extensive variety of recipes offered are sure to be a hit this holiday season and beyond."
Starting this week, the application will be available in the iTunes Store for a special introductory price of $2.99. Following the holiday season, this multipurpose and multidimensional application will be continually updated, making it ideal for party hosts throughout the year. Whether it be a Super Bowl gathering, a Valentine's Day celebration, a summer cocktail party or any number of special occasions, this indispensable digital resource for home entertaining makes any gathering a memorable occasion.
For images, further information, or interviews:
Ashley Wallace
MALONEY & FOX
Phone: 646-356-8332
Email: awallace(at)maloneyfox(dot)com
About Robb Report
Now in its 34th year, Robb Report is the international authority on the luxury lifestyle. Each month, the magazine reports on exceptional products and services for the affluent connoisseur. Coverage includes automobiles, motorcycles, aircraft, art, dining, jewelry, watches, fashion, travel, homes, wines, spirits, and cigars. For more information, visit the magazine's website at RobbReport.com.
About William Grant & Sons
William Grant & Sons Ltd. is an independent family-owned distiller headquartered in the United Kingdom and founded by William Grant in 1887. Today the premium spirits company is run by the fifth generation of his family. Among the most recent accolades for the well-awarded William Grant & Sons is the "Distiller of the Year" award, which the company has received four times in five years from the prestigious International Spirits Challenge.
Founded in 1964, William Grant & Sons USA is a wholly owned subsidiary of William Grant & Sons Ltd. and features one of the fastest-growing spirits portfolios in the USA, with premium brands including Stolichnaya vodka, the world's most awarded single malt Scotch whisky Glenfiddich, The Balvenie range of handcrafted single malts, Grant's blended Scotch, Hendrick's® Gin, Sailor Jerry® Spiced Navy Rum, Milagro® Tequila, Frangelico Hazelnut Liqueur, Licor 43, Bols liqueurs, Galliano, Lillet, Solerno Blood Orange Liqueur and Bennett Lane Wines.
William Grant & Sons USA has offices in New York City (sales and marketing) and Edison, NJ (bottling and warehouse facilities). For more information on the company and its brands, please visit http://www.grantusa.com.
# # #