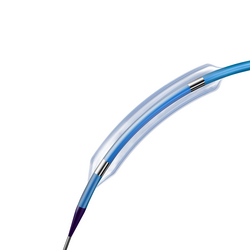 "It demonstrates our commitment to aggressively go after this critical medical device market. "
Irvine, CA (PRWEB) December 12, 2010
Insightra Medical, Irvine, CA, is aggressively targeting three major sectors of the medical device market: Cardiovascular, General Surgery and Urogynecology. Key to Insightra's growth is the continual addition of new product ranges to offer a full compliment of solutions to their partner clinicians.
Today Insightra announced the CE mark of their range of Patriot™ Coronary Dilatation Balloons (CDB). This is a family of semi-compliant balloons for performing pre and post stent dilation in the coronary arteries. The new balloons are loaded with features to improve accurate delivery and allow for precise inflation within highly controlled pressure ranges. The entire design of the balloon has been optimized to achieve these goals.
The CDB range is an addition to the current cardiology portfolio, which includes the largest range of 7Fr Intra Aortic Balloon Catheters available. These, true 7Fr balloons with the smallest profile available are being used more frequently by cardiologists. Already, in several key markets this range of IAB catheters is estimated to be the second best selling product in terms of market share.
In addition, Insightra is gaining rapid market share with their range of Patriot™ cobalt chromium bare metal stents. The ultra thin struts and open cage structure are being hailed for superior deliverability and excellent clinical outcomes. The CDB range perfectly compliments the current stent range. But more products are set to follow, with the company working on a next generation, duel drug eluting stent system delivering Sirolimus and the antiplatelet drug Triflusal. In pre-clinical publications the D2ES has shown very promising results in animals when compared to other drug eluting stents. The Patriot™ D2ES will enter human trials in 2011.
"We are pleased by the expansion of our cardiology product line," said Brad Sharp, CEO of Insightra. "It demonstrates our commitment to aggressively go after this critical medical device market. Our initial focus has been Asia due to key strategic alliances, but we are now expanding to Europe and Latin America."
# # #