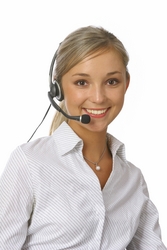 "We joined NRF because we want to be advised of changes in the retail marketplace and be informed of trends so that we can better serve our clients." Anna Stark President
Anaheim, CA (PRWEB) December 13, 2010
Seevian Solutions, a highly specialized customer care solutions provider with core competence in inbound customer service and support for niche business areas, is pleased to announce that the company has joined the National Retail Federation.
As the world's largest retail trade association and the voice of retail worldwide, NRF's global membership includes retailers of all sizes, formats and channels of distribution as well as chain restaurants and industry partners from the United States and more than 45 countries abroad. In the United States, NRF represents the breadth and diversity of an industry with more than 1.6 million American companies that employ nearly 25 million workers and generated 2009 sales of $2.3 trillion.
Seevian president Anna Stark commented, "We joined NRF because we want to be advised of changes in the retail marketplace and be informed of trends so that we can better serve our clients." Seevian will participate as an exhibitor in the NRF conference, "Retail's BIG Show," celebrating 100 years of retail leadership. The conference will be held at the Jacob K. Javits Convention Center in New York City, January 9-12, 2011.
About Seevian Solutions
Seevian provides voice, email and live chat services that help businesses meet their customer service objectives during and after the sales process. From its head office in California, Seevian Solutions serves its customers throughout the US, Canada, and other parts of the world. Seevian has crafted a unique blend of U.S. management techniques and procedures with its near shore call center to provide top-notch customer support services for businesses and industries. Backed by experienced industry veterans–who have a combined experience of more than 25 years–in the customer care business, Seevian Solutions has invested heavily in technologies, equipment, and human resources. For more information, please see http://www.seevian.com/about_us.aspx.
# # #