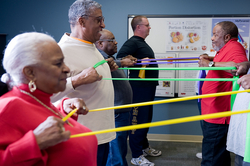 The holidays don't have to derail people trying to make lifestyle changes for weight loss and health.
Baltimore, MD (Vocus) December 13, 2010
Want to stay on track during the holidays without gaining unwanted weight? Here's eight tips to keep fit and stay healthy during the holiday season!
1. Use the 50% rule. Make half of your party plate fresh fruits and vegetables to help fill you up without filling you out! Fruit platters and raw veggies also make great appetizers so reach for them first instead of the chips and other high calorie snacks.
2. Don't use holiday time as an excuse to overdo it. One or two moderate indulgences per week is ok, but more can cause extra weight gain. Pack your lunch and snacks for work and limit the office holiday cookies and candy. These indulgences add up quickly!
3. Bring a healthy dish to the party. Going to a potluck holiday party? Bringing a fruit or vegetable salad or other low fat dish ensures you have healthy alternatives to munch on.
4. Don't drink your calories. Instead of sodas and other sweetened beverages, try sticking mostly with water and other zero calorie drinks during the holiday season.
5. Don't skip meals! This can lead to overeating at holiday parties which can sabotage weight loss goals. Shoot for 3 meals with one or two small snacks per day.
6. Keep alcohol in check. Too much alcohol can pack on the pounds. Plus, drinking may increase appetite, causing you to overeat. At holiday parties, substituting alcohol with seltzer water and a splash of 100% fruit juice can serve as a healthful alternative.
7. Weigh yourself weekly. Weighing yourself is one of the best ways to stay on track and monitor your weight status before your weight spirals out of control. Many Americans gain weight during the holidays, so weighing yourself weekly is especially helpful during this treat-tempting time.
8. Move your body! Every time you move your body, you'll burn some fat, stay fit, and keep your weight in check! Whether you walk, bike, dance, or swim, find activities you can do every day during the holiday season and throughout the year! Remember, when starting an exercise program, start slow and build gradually, and check with your health care provider should you have medical concerns prior to increasing physical activity.
Reporters/Editors Note:
To interview Kevin Grodnitzky, MOVE! Program Coordinator, please call Rosalia Scalia and or Kenya Griffin in the Public Affairs Office at 410-605-7464, via cell phone at 410.736.8444 or via e-mail at rosalia(dot)scalia(at)va(dot)gov. Or Kenya Griffin at 410-605-7098, on her cell at 443-695-3623 or via e-mail at kenya(dot)griffin(at)va(dot)gov.
The VA Maryland Health Care System (VAMHCS) provides a broad spectrum of medical, surgical, rehabilitative, mental health and outpatient care to veterans at two medical centers, one rehabilitation & extended care center and five outpatient clinics located throughout the state. More than 52,000 veterans from various generations receive care from VAMHCS annually. Nationally recognized for its state-of-the-art technology and quality patient care, VAMHCS is proud of its reputation as a leader in veterans' health care, research and education. It costs nothing for Veterans to enroll for health care with the VA Maryland Health Care System and it could be one of the more important things a Veteran can do. For information about VA health care eligibility and enrollment or how to apply for a VA medical care hardship to avoid future copayments for VA health care, interested Veterans are urged to call the Enrollment Center for the VA Maryland Health Care System, Monday through Friday, from 8 a.m. to 4:30 p.m. at 1-800-463-6295, ext. 7324 or visit http://www.maryland.va.gov.
###