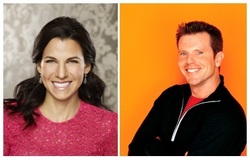 We're taking all the prep work out of cooking like the pros.
Seattle, WA (PRWEB) December 14, 2010
Dream Dinners, the country's leading meal assembly service, today announced partnerships with New York Times Best Selling cookbook authors Jessica Seinfeld and Bob Greene, offering customers an easy way to share the celebrities' recipes with their families in the coming months.
Seinfeld, who recently appeared on The Oprah Winfrey Show to promote her new cookbook Double Delicious is known for brilliantly sneaking vegetables into her family's meals to ensure her husband Jerry and three children are getting the nutritional benefits of the vegetables without the whining and complaining. Her turkey meatloaf, a selection from her first cookbook Deceptively Delicious, is available on Dream Dinners menus throughout December.
"Every mother knows the agony of trying to get their kids to eat vegetables so we instantly fell in love with Jessica's smart style of cooking," said Stephanie Allen, President and co-founder of Dream Dinners. "Jessica's recipe is a delicious and lighter take on meatloaf, and in just the first few weeks, we're already hearing rave reviews from our customers."
Starting in January, customers can also try recipes from another longtime friend of Oprah, renowned fitness expert and trainer, Bob Greene. In addition to authoring a number of New York Times Best Selling health, nutrition and fitness books, Greene has a website, TheBestLife.com, which helps subscribers track calories and maintain a fitness routine tailored to their weight loss goals. His newest title The Life You Want: Get Motivated, Lose Weight, and be Happy will be released January 2011.
To kick off the New Year with healthy resolutions in mind, Dream Dinners will feature two of Greene's recipes, Sweet & Sour Chicken and Mediterranean Salmon on January and February menus respectively. As part of the two-month partnership, Dream Dinners will also offer their guests a special discounted annual rate to try Greene's fitness plans at thebestlife.com.
"The problem for most people is that eating healthy in the New Year usually equates to lots of extra time reading labels and meal planning, and they fall off of the weight loss wagon by March," said Allen. "Bob's recipes, like many at Dream Dinners, make it easier to eat better on a regular basis without the hassles. We just print out the calories per serving so our guests can type them into thebestlife.com and match them to their fitness goals."
The company, which has also partnered with celebrity chefs Emeril and Martha Stewart in the past, says it plans to continue offering celebrity recipes to guests as an exclusive privilege.
"To try a recipe from a renowned chef can be intimidating, but at our locations nationwide, we're taking all the prep work out of cooking like the pros," commented Tina Kuna, Dream Dinners President and co-founder. "We're thrilled to team up with these two respected chefs in the coming months and look forward to many more partnerships to give our customers exciting new selections.
ABOUT DREAM DINNERS
Founded in 2002, Dream Dinners, Inc. is the recognized originator of the $300 million meal assembly industry. Headquartered in Snohomish, Wash., Dream Dinners locations provide guests' monthly menus to select from, then procure and prepare all ingredients in advance, so guests can assemble dozens of meals in about an hour, then take home to freeze. With more than 100 franchises in 30 states, Dream Dinners saves its guests both valuable time and money, and focuses on bringing families back to the dinner table with healthful, delicious and easy-to-fix meals.
###