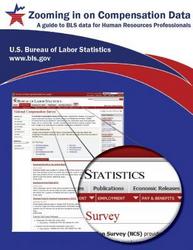 Zooming in on Compensation Data - A guide to BLS data for Human Resources Professionals
Washington, DC (PRWEB) December 15, 2010
The U.S. Bureau of Labor Statistics (BLS) will soon be releasing "Zooming in on Compensation Data - A guide to BLS data for Human Resources Professionals". The guide is available free of charge. Anyone that wants an understanding of the comprehensive data on wages and benefits from BLS can request the guide by sending an email message with their mailing address to HRGuide (at) bls (dot) gov.
The guide is a convenient hands-on reference document that provides brief explanations of various BLS surveys, with charts that display the data graphically. Included in the booklet are separate sections for wage and salary administrators, benefit administrators, wage and contract administrators, as well as information on the 21st century workforce, other BLS data, and survey participation. Finally, the booklet shows how to access data from the BLS website as well as provides contact information (phone numbers, email addresses, and websites) for each of the eight regional BLS information offices and the many programs explained in the guide.
The BLS programs that are featured in the guide include the Occupational Employment Statistics program, National Compensation Survey (which includes the Employment Cost Index, Employer Costs for Employee Compensation, Employee benefits, and wage surveys), Consumer Price Index, Employment Projections, Job Openings and Labor Turnover Survey, Current Employment Statistics, Quarterly Census of Employment and Wages, Current Population Survey, Local Area Unemployment Statistics, Injuries, Illnesses, and Fatalities program, and Labor Productivity.
The Bureau of Labor Statistics of the U.S. Department of Labor is the principal Federal agency responsible for measuring labor market activity, working conditions, and price changes in the economy. Its mission is to collect, analyze, and disseminate essential economic information to support public and private decision-making. As an independent statistical agency, BLS serves its diverse user communities by providing products and services that are objective, timely, accurate, and relevant.
This press release was distributed through PRWeb by Human Resources Marketer (HR Marketer: http://www.HRmarketer.com) on behalf of the company listed above.
###