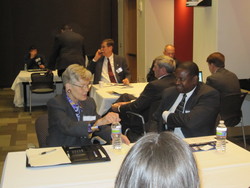 One of the reasons why Maryland is such an important location for SAIC is the alliance between state and federal governments and industry, as evidenced by the Contract Connections event.
Baltimore, MD (Vocus) December 15, 2010
More than 250 Maryland small and minority businesses flocked yesterday to Contract Connections, the state's first federal industry day, seeking government procurement opportunities. The sold-out event, which was organized by the Maryland Department of Business and Economic Development (DBED) and held at the Food and Drug Administration in Silver Spring, featured 13 federal agencies and military commands – including NASA Goddard Space Flight Center, National Institutes of Health, Defense Information Systems Agency, National Security Agency, Social Security Administration, and Naval Air Systems Command, and many top private sector leaders, including Walter P. Havenstein, CEO of Science Applications International Corporation (SAIC), who served as the luncheon keynote speaker. Click here to view a live stream of the event.
DBED Deputy Secretary Dominick Murray kicked off the day by introducing breakout sessions led by senior federal officials and private sector industry leaders on R & D, cybersecurity and IT and professionals services. An afternoon panel featured a discussion on subcontracting opportunities that included top government contractors. The day concluded with unique "matchmaking" sessions in which businesses presented their statements of capabilities to the agencies as a first step in accessing federal procurement opportunities.
"As we learned from yesterday's successful event, there are a vast number of federal procurement opportunities that can directly benefit our small and minority businesses, and we were pleased to bring together the federal agencies and the industry experts to help make those connections happen," said Deputy Secretary Murray.
"We were pleased to host this event and hope it benefits both federal agencies and Maryland businesses," said Kimberly Holden, the FDA's Assistant Commissioner for Management.
"Small businesses are an important part of our overall strategy at SAIC," said SAIC CEO Mr. Havenstein said during his keynote remarks. "In FY 2010, we awarded $2.2 billion, or 20 percent of our total revenues, to small businesses, so they are really at the heart of what we do."
While federal agencies are expected to spend 10 percent less in procurements this fiscal year than last, experts noted yesterday that businesses in Maryland are uniquely positioned because of the State's significant role in Base Realignment and Closure (BRAC) as well as its leadership in industries like cybersecurity and health care.
"With the wide range of industry experts that are here, in terms of professional services, IT, research and development, this event has been a tremendous help," said Lucus Toche with MilVets Systems Technology Inc., a service-disabled, veteran-owned small business in Lanham, who attended Contract Connections. "It's a great opportunity to network, to get our name out there and to partner with other companies."
Maryland is home to more than 50 federal facilities which contribute an estimated $16 billion to the state's economy and employ more than 70,000 people. For the year ending September 30, 2010, federal agencies contracted $34 billion with Maryland companies. In addition, Maryland's military installations have an economic impact of $36 billion, employ more than 100,000 people (excluding contractors) and purchase nearly $7 billion in goods and services from Maryland companies.
In January, Governor O'Malley appointed a Federal Facilities Advisory Board to identify ways in which Maryland can support and enhance the agencies' infrastructure, education and workforce needs and facilitate the commercialization of the innovative technology created in federal and military labs. Yesterday, Board Chairman and Vice President of Van Scoyoc Associates Kevin Kelly announced the creation of the "Team Maryland" Networking and Mentoring Program to foster cooperation between Maryland-based companies, teach small companies best practices and provide teaming opportunities that can increase federal procurement expenditures in Maryland.
To further assist businesses seeking work with government agencies, DBED recently launched a B2G website which includes a "how to" guide and other resources for businesses interested in applying for federal contracts.
@MDBiz
@MarylandBRAC
cybermaryland.wordpress.com
###