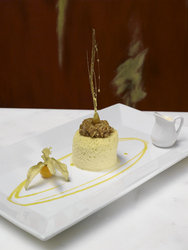 Many of the dishes will pay homage to Frida's most famous lovers....
New York, NY (PRWEB) December 16, 2010
On December 31, 2010, Crema Restaurante will ring in the new year like no other: by hosting a Frida Kahlo Surrealist New Year's Eve Dinner. This Frida Kahlo inspired night will celebrate the life of one of Mexico's most famous artists by incorporating Frida's recipes, lifestyle, and art in one night to create an exhilarating dining experience. Chef Julieta Ballesteros, owner/executive chef of the Zagat and Michelin rated Crema Restaurante, will re-imagine Kahlo's original recipes – to be served for one night and one night only. Many of the dishes will pay homage to Frida's most famous lovers – like Noguchi and Leon Trotsky. Some of the sauces will be presented with paint brushes for the guests to "paint" their meals.
There will be two seatings available for the night. The first seating is at 7:00pm and the second will begin at 9:30 pm. Unlimited bubbly will be served all night.
The décor will be inspired by Frida's paintings with a tropical Surrealist look – think mounds of tropical
fruit and ominous ravens.
Some items on the Prix Fixe menu include:
Foie Gras Sliders: Brioche bun, caramelized onions, pomegranite
Portabellos rellenos de Cangrejo: Portabello mushrooms stuffed with jumbo lump crab meat, guajillo-red pepper coulis
Risotto de Huitlachoche y Langosta: Risotto with Mexican truffles, asparagus and a half lobster
WHEN: New Years Eve December 31st
WHERE: Crema Restaurante, 111 W. 17th St (Btw. 6th & 7th Aves.) NY, NY 10011
WHAT: A Frida Kahlo Surrealist New Years' Eve: Kahlo's actual recipes re-imagined by Chef Julieta Ballesteros
SEATINGS: 7:00pm & 9:30 pm ($75 to $99 per person)
ABOUT CREMA: Chef Julieta Ballesteros, from Monterrey, Mexico, and trained at New York's French Culinary Institute, fuses traditional Mexican cuisine with a beautiful French presentation. When she's not consulting with Gordan Ramsey on Kitchen Nightmare or battling on Iron Chef, Chef Julieta is dreaming up new gourmet dishes that retain their authentic Mexican flavors. This Zagat-listed celebrity chef has created a Michelin rated Chelsea hot spot that is refined and fun. Crema's interior plays with traditional Mexican colors and textures in a modern New York way. The original paintings on display were custom created for the space by the celebrated artist and mother of the chef, del Bosque.
# # #