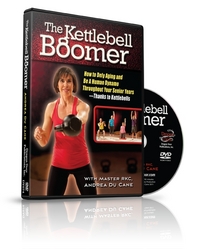 "If you choose to reclaim your youth, look no further than The Kettlebell Boomer. Andrea Du Cane possesses a razor sharp mind and the kind of attention to detail that separates the high-end professionals from the also-rans. Which shall become obvious once
Saint Paul, MN (PRWEB) December 16, 2010
Nothing ages us faster than the lack of regular, effective exercise. Muscles melt away, bones go brittle, posture stoops, skin sags, flab hangs—and joints creak. Pain, fear and fatigue become our constant companions.
The less you exercise, the faster you decline. However, not all exercise is created equal. Many forms of exercise may at best put you in a holding pattern, while other forms of exercise might even exacerbate your health issues.
The good news is that there is one form of exercise which can give you immeasurable health benefits, whatever your age. Regular, well-designed kettlebell workouts may not only reverse many symptoms of aging, but will actively contribute to building your strength and power well into your 50s, 60s, 70s and 80s.
Discover how the magic of kettlebell exercise can keep you powerful, strong, supple and out of trouble—at any age…
Kettlebells are the only handheld weight that allows you to exercise aerobically, for cardio as well as anaerobically, for strength training. The kettlebell is the unique "gym in your hand" that can reward you with decades of high-yield health benefits.
Andrea Du Cane's Kettlebell Boomer presents a complete De-Aging Masterplan, that gives everyone from the raw novice to the experienced athlete an opportunity to defy physical decline and hone themselves—safely, simply and progressively—into the muscular, energetic, magnetic specimens they deserve to be.
Kettlebell Boomer provides everything you need to start training with kettlebells—with full instruction plus follow-along workouts. You will discover two main workouts, one with a strength focus and the other cardio. Watch four different people doing the workout, each representing a different level. Pick the right level for you and follow that person through the entire workout. Or you can switch between levels for different exercises.
Bonus sections cover warm-ups, joint mobility, balance and stability—to ensure your anti-aging kettlebell program covers all the essential elements for a long, active, safe and pain-free life. Enjoy!
"Why do so many people, once they reach some arbitrary age, relax into middle age and stop being men and women?
Youth is a choice. There are dull-eyed twenty some year olds ready for rocking chairs. And there are youths who have been getting their Social Security checks for some time. Years ago I had the pleasure of meeting Milton, an eighty year old gent with the fiery gaze of a young warrior. The first time he saw the deadlift, this man walked over to the bar and literally ripped 225 pounds off the ground. Assuming that a retired man would play golf I told him that this exercise would improve his game. Milton gave me a furious look. 'Golf?! I don't play golf. It's for old people.'
With the right attitude and the training methods we have today, it is a shame not to be young. In the best tradition of Russian ballerinas, Andrea Du Cane keeps getting younger. She could be a boomer's daughter, but a boomer herself?—No way! Andrea has found the secret of never ending youth and a big part of it is the Russian kettlebell.
I keep hearing this story over and over from our RKC kettlebell instructors. Former athletes in their forties and fifties take up kettlebells, decide to give their old sport another go, and within months outperform their twenty-year old selves! Fifty-two year old David Zaharik, Canadian full contact karate champion in the 1980s, wrote in our magazine Hardstyle: 'One of the amazing things about training with kettlebells is that after not training in my martial art for over two years, I have actually increased the speed of my strikes and the power and speed of my kicks! I go and grapple with my old buddies who train this stuff everyday and I hold my own very well. And I getting comments back like … man you are strong… oh, by the way, these guys are 20-25 years younger than me.'
If you choose to reclaim your youth, look no further than Kettlebell Boomer. Andrea Du Cane has been kettlebelling since the very first days of the Russian kettlebell invasion we started in 2001. The Kettlebell Goddess possesses a razor sharp mind and the kind of attention to detail that separates the high-end professionals from the also-rans. Which shall become obvious once you watch her DVD.
Youth is a choice. Make it."
—Pavel Tsatsouline, author of Enter the Kettlebell!
###