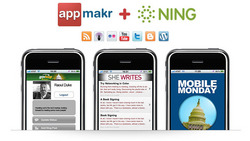 San Francisco, CA (PRWEB) December 15, 2010
AppMakr (http://www.appmakr.com), the leading platform for anyone to make native iPhone apps with no coding experience required, today announced instant integration with new and existing Ning network, bringing Ning everywhere there's an iPhone.
"Ning Everywhere makes setting up a social network fast and easy. With AppMakr.com it takes no effort for popular Ning networks like Twilight fans to message each other on their iPhone or have UFC fans upload mobile photos of fights anywhere and everywhere," said Sean Shadmand, Chief Strategy Officer at AppMakr.com.
Ning network creators can visit AppMakr, design an iPhone app for free, and setup their Ning network members to write blog posts, upload photos, and update activity status. Users can design iPhone applications using a variety of RSS feeds from existing Ning websites, such as blog posts, the photo page, and member listing. Additional features include sending instant notifications and receiving messages to and back from users that download your app.
"Our members grew from an idea with 0 members to an award-winning online community of 35,000 government leaders across the globe, Ning has been essential in providing an easy, intuitive, scalable, and extremely affordable solution," said Steve Ressler, founder of GovLoop.com--the largest social network for government workers and officials. "When we decided to build an iPhone app, almost all the options were over $10,000 and underwhelming. It was great to find another local DC business who was providing iPhone apps at the cost of hundreds of dollars and NOT tens of thousands of dollars."
Partners using AppMakr to design iPhone apps for their Ning network members are also seeing increase engagement in attending events and contributing content online whenever and wherever their users may be.
Ning network creator Kamy Wicoff notes, "I love this extension for my Ning network! I can't think of an easier, more reasonable, or bigger instant-wow than being able to provide my community with an app that will let them engage with the SheWrites.com website."
Since launching in January of 2010, AppMakr has helped thousands of content publishers and individuals launch iPhone apps with little or no development budget required. AppMakr has worked with partners such as PBS NewsHour, Harvard Business Review, MacWorld UK, and Inc. events. App publishers can also implement monetization programs like AdMob or Medialets or charge for apps to get the most out of their mobile initiatives.
About AppMakr
AppMakr makes it easy for anyone to make an native iPhone app, no coding experience required. Make iPhone apps with your own content from anywhere, interact with messages, and track download counts and use from your users. AppMakr makes it easy to extend your brand on to iPhones. Distribute your own iPhone apps or have AppMakr help you with uploading your app to iTunes Store. AppMakr has been profiled in TechCrunch, Time, Mashable, MobileCrunch, TechMeme, TECH Cocktail, The Wall Street Journal and The Washington Post. For more information, visit http://www.appmakr.com.
About Ning
Ning is the leading online platform for the world's organizers, activists and influencers to create social experiences that inspire action. Based in Palo Alto, Calif., Ning offers an easy-to-use service that enables people to create custom branded social networks. With more than 300,000 active Ning Networks created across politics, entertainment, small business, non-profits, education and more, millions of people every day are coming together across Ning to connect around the topics they are passionate about. Ning was co-founded in October 2004 by Chairman Marc Andreessen and is privately held. For more information, visit http://www.ning.com.
###