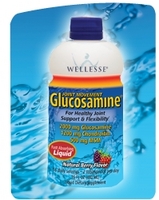 Just as you winterize your car and home, you also need to take extra care of your joints during the winter months
Ferndale, WA (Vocus) December 16, 2010
The Arthritis Foundation reports that one in five adults has chronic joint symptoms, and half of those people think nothing can be done to help them. And when joint discomfort increases because of cold weather, that's a message people don't want to hear. Fortunately, the nutrients glucosamine and chondroitin found in Wellesse Joint Movement Glucosamine are clinically shown to maintain optimal joint health and flexibility.
"Just as you winterize your car and home, you also need to take extra care of your joints during the winter months," said Marie Spano, registered dietitian. "A liquid glucosamine, chondroitin and MSM supplement nutrifies joints and can improve comfort and mobility."
Clinical studies show that glucosamine and chondroitin in combination are beneficial in maintaining healthy joint function, cartilage and flexibility. Glucosamine is necessary to protect and rebuild cartilage tissue and keep joints strong and healthy. Chondroitin naturally occurs in the connective tissue to cushion and lubricate cartilage for ease of joint movement. MSM is an organic form of sulfur vital to nourishing and maintaining healthy connective tissue in the joints for flexibility and elasticity.
Most people start to feel results from glucosamine supplements after seven days of use.(1)
Spano adds, "Research has shown that nutrients from liquid sources can be more quickly absorbed than solids. In addition, liquids are easier to swallow than large tablets or pills."
Wellesse Joint Movement Glucosamine liquid is the number one selling liquid glucosamine and chondroitin concentrate.(2) It contains 2,000 mg of glucosamine, 1,200 mg of chondroitin and 500 mg of MSM. It is available nationwide at Alice.com, Amazon.com, Costco, CVS, Drugstore.com, Walmart and other retailers. Through December 31, consumers can win healthy prizes, including up to a year supply of Wellesse liquid supplements, during the ["Discover the Liquid Advantage" Instant Win and Sweepstakes campaign.
About Wellesse
For more than 20 years, Wellesse has developed liquid nutritional supplements that support health and wellness. The line of liquid dietary supplements includes the nation's best-selling liquid glucosamine concentrate, Joint Movement Glucosamine®, liquid Vitamin D3, liquid Calcium with Vitamin D3 and Digestive 3-in-1Health. For up-to-date information vital to your health, read the Wellesse blog, follow Wellesse on Twitter, WellesseTV, PitchEngine or become a fan on Facebook. Products are manufactured by Botanical Laboratories, Inc. in Ferndale, Wash.
(1) This statement has not been evaluated by the Food and Drug Administration. This product is not intended to diagnose, treat, cure, or prevent any disease.
(2) National retail sales, IRI total US FDM + club, 52 weeks ending September 2010
###