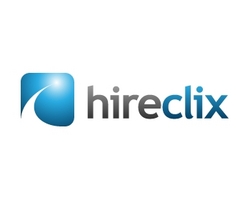 "Using ClickEquations allows us to be competitive in the marketplace, scale our team of search marketing experts and focus on growing our business instead of wasting time on tedious tasks," Neil Costa - CEO, HireClix
Conshohocken, PA and Gloucester, MA (PRWEB) December 20, 2010
ClickEquations today announced that HireClix, LLC, an interactive recruitment marketing agency, has chosen ClickEquations as their paid search marketing platform. ClickEquations is the first intelligent paid search platform for large advertisers and agencies.
"HireClix' clients and prospects have high expectations for their paid search efforts, so our campaigns have to be very relevant and efficient. We tested ClickEquations inside and out and their paid search platform exceeded our expectations. It's incredibly powerful and yet designed in a way that is very easy-to-use," said Neil Costa, CEO of HireClix.
HireClix specializes in interactive marketing for the recruiting sector and manages pay-per-click (PPC) marketing for career-oriented and educational lead generation sites. CEO Neil Costa is a digital marketing veteran, having previously worked for Monster.com and managed annual online marketing budgets up to $20 million.
HireClix searched the marketplace and was attracted to ClickEquations because of the company's strong expertise in paid search. HireClix found the automated monitoring to be valuable in identifying areas of risk and opportunity. They were also able to significantly reduce time spent reporting by 50% using ClickEquations Analyst, an Excel plug-in.
"Using ClickEquations allows us to be competitive in the marketplace, scale our team of search marketing experts and focus on growing our business instead of wasting time on tedious tasks," added Costa.
"HireClix definitely understands the PPC marketplace. Their knowledge really showed as they leverage every aspect of ClickEquations. We're proud to add them to our growing clients list and look forward to having them use our intelligent paid search platform," said Jason Simon, Senior Vice President of Sales.
HireClix joins Comcast, Apogee Results, GyroHSR and other high growth advertisers and agencies in adopting ClickEquations' intelligent paid search platform to improve their PPC results.
About ClickEquations
ClickEquations is the first intelligent paid search platform for large advertisers and agencies. ClickEquations offers complete paid search management, bidding and reporting, plus intelligent extras that make life easier. ClickEquations Segments help clients focus with one-click filters to show the critical slices of campaigns. ClickEquations Adviser highlights the most important things to do with a set of best-practices algorithms. ClickEquations Manager and Analyst simplify optimization with features including bid automation, bulk editing and simply powerful analytics.
The company has no-hassle pricing, no setup fee and includes support. Founded in 2006 and located outside of Philadelphia, Penn., ClickEquations is venture-capital backed and run by a seasoned management team. Learn more about its pay-per-click software at http://www.clickequations.com.
About HireClix
HireClix, LLC is an interactive recruitment marketing agency that helps corporate recruiting teams, staffing firms, and other businesses get practical results by delivering customized recruitment marketing campaigns, leveraging search engine optimization, pay-per-click recruiting, targeted interactive advertising, email marketing and social media. HireClix is focused on building employment brands to find quality candidates through innovative recruitment marketing strategies and zealous support. Contact HireClix at 888.419.CLIX or by email at contact(at)hireclix(dot)com
###