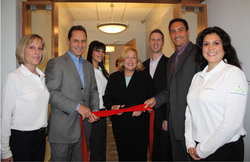 "It is extremely satisfying to have built an office that taps in to that experience resulting in, what I believe to be, a very unique pediatric dental group in a very special office environment." - Dr. Lou Cooper.
Rye Brook, NY (PRWEB) December 18, 2010
Dr. Lou Cooper, who has practiced pediatric dentistry for over 30 years, has created a very different kind of dental experience for both parent and child. NY Pediatric Dentistry, which has just announced the opening of its doors at 90 South Ridge Street in Rye Brook, integrates Dr. Cooper's progressive, technologically-savvy, approach to pediatric dentistry and high level of patient service with an engaging environment that is uniquely designed.
Providing orthodontic care and pediatric dentistry in one practice, NY Pediatric Dentistry takes a proactive approach to children's dental needs, optimizing their dental health from age one. The new practice caters to children of all ages, from toddler to young adult, and offers progressive, individualized treatment to meet the needs of both parent and child. From online registration forms and in-office iPads to expedite the registration process, to the innovative office environment that stimulates each child's senses, NY Pediatric Dentistry works to create a positive dental experience for parents and children.
Visitors to Dr. Cooper's new 3,300-square-foot practice enter an office where children and parents enjoy their own separate waiting areas. The parents lounge is equipped with a large-screen TV and WiFi, while a kids area boasts three iMacs featuring downloadable games and internet access, video games including Pacman, Galactica and X-Box games, a wall of interactive and educational toddler games and toys, and a 60-inch television with colorful, comfortable stools for seating. There are three themed operatory rooms – ocean, garden and space – each adorned with a 42-inch television, mounted in the ceiling for easy viewing from dental chairs, two semi-private rooms – the Westchester Room, with a panel of three TVs, educational videos, and bright orange chairs for younger children, and the New York Room, featuring a panoramic life-like digital print of midtown Manhattan for teens, adult Invisalign patients, and those who miss the city. In addition to its unique environment, the practice offers the latest treatment technologies, and will soon offer an Intra Oral Camera to detect the depth of a cavity.
"I am very excited to be practicing in the community in which I live after practicing in Manhattan for so many years. It is extremely satisfying to have built an office that taps in to that experience resulting in, what I believe to be, a very unique pediatric dental group in a very special office environment," said Dr. Cooper, founder, NY Pediatric Dentistry and Harrison resident. "By creating a practice that integrates pediatric dentistry and orthodontics, we can improve the overall oral dental health of children and make it convenient for parents at the same time."
Dr. Cooper received his dental degree from New York University College of Dentistry and received his post graduate training in Pediatric Dentistry at The Eastman Dental Center, University of Rochester. Prior to opening NY Pediatric Dentistry, Dr. Cooper co-founded and was partner in one of the most prestigious pediatric dental groups in Manhattan for over 25 years. He is an active member with the American Dental Association, American Academy of Pediatric Dentistry, as well as numerous other professional organizations. Dr. Cooper is also on staff at both New York Presbyterian Hospital and Lenox Hill Hospital in Manhattan.
Joining Dr. Cooper in practice is orthodontist and Scarsdale resident Dr. Brian Finn, who earned his degree from Columbia University School of Dental Medicine, and specialty training in Orthodontics from Columbia University. Dr. Finn is Board Certified, has been on the faculty of Columbia University as Assistant Clinical Professor in Orthodontics, maintains active memberships in numerous professional associations including, College of Diplomats of the American Board of Orthodontics, American Association of Orthodontics, Columbia University Orthodontic Alumni Society-Exec Board Member, and is a past president of the Scarsdale Dental Society.
Collectively, Dr. Cooper and Dr. Finn provide a comprehensive assessment of and implement a proactive plan for optimizing children's dental health. Both are specially trained to provide care for adolescents as well as children with special needs. Dr. Cooper, in accordance with the American Academy of Pediatrics, strongly encourages parents to schedule a first dental check-up for their children at age one.
NY Pediatric Dentistry is now open at 90 South Ridge Street in Rye Brook, across from The Rye Ridge Plaza, and accepting new patients. Appointments can be requested online at http://nypediatricdds.com or by phone at 914.925.1099.
About NY Pediatric Dentistry:
Located at 90 South Ridge Street in Rye Brook, NY Pediatric Dentistry is a unique pediatric dental group that provides coordinated orthodontic care within an innovative multisensory environment. It services children from infancy through young adulthood in Westchester, New York and Connecticut, offering a new kind of dental experience for children and their parents. To learn more, visit http://nypediatricdds.com or call 914.925.1099.
# # #