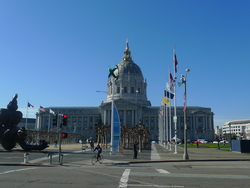 San Francisco (PRWEB) December 17, 2010
The company that is changing the face of alternative energy is now shining a spotlight on street lights around the globe. Urban Green Energy, the leading manufacturer of vertical axis wind turbines (VAWT), today announced the launch of Sanya, a hybrid wind and solar powered LED lighting solution, perfect for lighting streets and parking lots.
The stunningly attractive new product features a UGE eddy wind turbine, introduced by the company earlier this year, combined with a solar panel to ensure there is always enough power for the energy efficient LED. The hybrid lighting product is simple to install as well; virtually all that is needed is a foundation and with the flip of a switch communities have an almost-instant lighting solution.
"Finally with Sanya there is a sustainable, attractive, and affordable solution to street lighting," said Nick Blitterswyk, CEO of Urban Green Energy. "Taking the environmental consequences of lighting up the night into account, we cannot help but acknowledge the amount of energy needed to run the millions upon millions of street lights around the world. The Sanya hybrid lighting solution is not only an economical way to illuminate our communities, but it is also a socially responsible solution to reduce massive energy consumption."
Designed and manufactured by Urban Green Energy, Sanya is one more way that alternative energy is sweeping the globe. Initial Sanya installations are underway on four continents, including North America, Australia, Asia and Europe, and entire cities are considering changing their traditional way of providing nighttime light over to Sanya. Interest in the Sanya product is already sweeping the globe thanks to its ability to capture the imagination of governments and private customers alike.
When electricity costs are taken into account, the Sanya offers a cost competitive solution to traditional lights, yet it powers itself with 100% clean energy. It also offers the opportunity for customers to put their environmental commitment on display, including the option to customize the panels with their own logo or message, making the Sanya a great marketing tool for companies in industries including hospitality, real estate development, sports and recreation, and more.
The first major installation in the U.S. is shining clean-energy lighting in a high-profile location in San Francisco. The installation of several off-grid Sanyas is located in front of the city's Civic Cente and joins Mayor Gavin Newsom's ongoing campaign to green San Francisco and create a sustainable civic center. Using wind from the Bay and the power of the sun, the street lights will provide bright, clean light after dark.
"The Civic Center Sustainability District seeks to showcase cutting-edge environmental technologies, energy efficiency and renewable energy projects all within the context of our historic Civic Center Plaza," said Mayor Gavin Newsom. "This new hybrid streetlight pilot project is another step towards achieving our vision of a model, sustainable public square that harnesses the power of the wind and sun to deliver an essential government service."
UGE has designed and manufactured 600W, 1kW and 4kW vertical axis wind turbines, as well as the new Sanya hybrid street lamps, and has customers in more than 40 countries around the world. Urban Green Energy has more credentials and more certifications than any other company in the vertical axis wind turbine industry. In fact, Urban Green Energy is the first company in the U.S. to receive certification for its turbines' safety, power, and noise level. The company has approximately 200 distributors and resellers around the world, a staff of more than 100 employees and is poised to become the pre-eminent leader in the small wind energy arena.
Readers interested in learning more about Urban Green Energy and its wind turbines should visit, http://www.urbangreenenergy.com.
About Urban Green Energy
Urban Green Energy is a world leader in small wind energy, focused on providing its customers with high-quality, high-performance, and high-design vertical axis wind turbines and associated applications. The company is headquartered in New York City, and has sold its products in more than 40 countries around the world. Urban Green Energy owns a dedicated production headquarters which include full testing and development capabilities allowing quick and cost-effective collaboration on new and existing technologies. The company is quickly becoming one of the largest manufacturers of small wind turbines worldwide.
EDITOR'S NOTE: To speak with Nick Blitterswyk, CEO, or to receive more information about Urban Green Energy, please contact Pamela Wadler or Nancy Trent at (212) 966-0024.
# # #