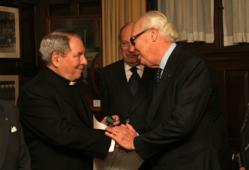 (Vocus/PRWEB) December 17, 2010
New York, NY (Vocus) December 17, 2010 -- His Royal Highness Prince Victor Emmanuel of Savoy, son of the late King Umberto II of Italy, conferred special honors on a member of the American Roman Catholic Episcopacy on December 10, 2010. The Prince was in New York to attend an annual charity event, the Ballo di Savoia (Savoy Ball), and other events sponsored by the American Delegation of Savoy Orders. The Prince was accompanied by his wife, Her Royal Highness Princess Marina of Savoy, as well as the Grand Chancellor of the Savoy Orders, Johannes Niederhauser.
The Most Reverend John Myers, the Archbishop of Newark, was honored by the Prince by his conferral of the Grand Cross of the Order of Saints Maurice and Lazarus. The honor was bestowed moto proprio, that is by the Prince's personal initiative, as head of the Royal House of Savoy. Archbishop Myers has members of his archdiocese who are highly involved with the activities of the Savoy Orders, ancient orders of knighthood which date back to the Crusades, and have traditionally been devoted to humanitarian works. The American Delegation through its charitable arm, The American Foundation of Savoy Orders, contributes to various causes, including: an ambulance for the former St. Vincent's Hospital in New York, contributions to the disaster relief for the victims of hurricane Katrina, the S. E. Asian tsunami, and the recent earthquake in Haiti. Recently, the Savoy Foundation has established the Savoy Orders Pigott Scholarship Fund for studies in the humanities and international affairs
Recognition as a Knight Grand Cross of the Order of Saints Maurice and Lazarus, an international honor, was presented by Prince Victor Emmanuel in view of the Archbishop's exemplary leadership as head of his large Catholic archdiocesan flock, and as an important Church and religious leader in America. He follows in the footsteps of other prelates of the Church who received the same honor from the Prince, such as Cardinals Bevilacqua of Philadelphia, McCarrick of Washington and Egan of New York.
Prince Victor Emmanuel's American Delegate, Carl J. Morelli, stated: "I am happy the Prince conferred the honor upon a distinguished prelate of the Church. We were delighted the Prince and Princess visited with us in New York City for the annual Ballo di Savoia, and presided over our events. Truly, this has been a special year for the Savoy Orders in America."
For further information concerning the Savoy Orders, contact Larissa Van Duser at 212.972.1100, ext. 245 or delegate(at)savoia(dot)org.
American Delegation of Savoy Orders
The Chanin Building, 380 Lexington Avenue, Suite 4400, New York, NY 10168
Tel: 212-972-1100; Fax: 983-5271
E-Mail: Delegate(at)Savoia(dot)Org
http://www.savoia.org
###