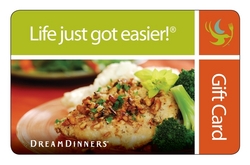 We created a truly unique online gift experience that brings Dream Dinners to life for those who have never tried meal assembly as a lifestyle.
Seattle, WA (PRWEB) December 20, 2010
This is it. It's the busiest time of year for virtual gift card sales, and this year, procrastinators will love Dream Dinners as the company debuts e-gift cards complete with a minute long video allowing recipients to see the meal assembly party gift as it unwraps! Recipients not only get a unique online gift experience, but they get a clear understanding of how Dream Dinners, the country's leading meal preparation service, is helping busy moms, foodies and friends to prepare hundreds of thousands of family dinners each month. The gift card arrives digitally in the recipient's inbox with a special personalized message, and is a perfect way for gift givers to show they care by introducing the recipient to a new way to cook that saves hours in the grocery store and in the kitchen prepping food, and helps brings the family together around the dinner table with more healthful, home cooked meals.
"Everyone wants to start the New Year off on the right foot, whether that's saving time, saving money, or even saving the waist line!," noted Stephanie Allen, President and co-founder of Dream Dinners. "Dream Dinners is a service that helps will all of those goals. We plan all of the meals and gather and prep the ingredients, and even do the clean up, so our guests simply go to their nearest Dream Dinners store and can assemble a month worth of meals to freeze in about an hour. One of the greatest benefits of Dream Dinners, is by eliminating the meal planning and dinner preparation hassles, it encourages families to get back together around the dinner table for meaningful connections."
A much healthier option as compared to fast food meals, Dream Dinners meals are all portion controlled and utilize low fat and no fat ingredients wherever possible. The monthly menus include dozens of delicious recipes to choose from, including favorites from celebrity chefs and fitness experts.
Purchasing a Dream Dinner e-gift card is quick and easy:
1. visit the "Buy a Gift Card" page on DreamDinners.com and select the virtual gift card and desired gift amount (starting at $25);
2. select a design, which will appear in the body of the e-mail sent to notify the recipient they've been gifted;
3. enter a personal message and the e-mail address of the recipient, add to the cart and purchase.
The process is just as easy for the recipient. After receiving the email with the e-gift card code and special message, the recipient can log on to DreamDinners.com to select the nearest location and choose their meals. The e-gift balance will be applied to their order during online check-out.
"We created a truly unique online gift experience that brings Dream Dinners to life for those who have never tried meal assembly as a lifestyle," says Dream Dinners Marketing Director Charlotte Starck. "It truly is a gift of less stress for the giver and the gift recipient."
ABOUT DREAM DINNERS
Founded in 2002, Dream Dinners, Inc. is the recognized originator of the more than $100 million meal preparation industry. Headquartered in Snohomish, Wash., Dream Dinners locations provide guests' monthly menus to select from, then procure and prepare all ingredients in advance, so guests can assemble dozens of meals in about an hour, then take home to freeze. With more than 100 franchises in 30 states, Dream Dinners saves its guests both valuable time and money, and focuses on bringing families back to the dinner table with healthful, delicious and easy-to-fix dream meals. http://www.dreamdinners.com
# # #