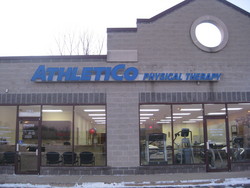 The specialty training I have received will allow AthletiCo McHenry to offer patients a number of services other local providers do not have
McHenry, IL (Vocus) December 20, 2010
AthletiCo Physical and Occupational Therapy, a Midwest provider of rehabilitation services, opens its newest physical therapy center at 1783 Richmond Road/Rt. 31 in McHenry across the street from Target. AthletiCo McHenry's services include Physical Therapy, Orthopedic Rehabilitation, Sports Medicine, Work Rehabilitation, Work Conditioning, Functional Capacity Evaluations, Vestibular Rehabilitation, Video Gait Analysis, and Spine Control Classes.
With the opening of the McHenry center, AthletiCo promoted Brandon Queen, PT, DPT, MS, to the position of Facility Manager. Queen has spent the past three years practicing out of AthletiCo's Lake in the Hills facility, where he has been active in AthletiCo's specialty programs developing his skills in orthopedic and vestibular rehabilitation, as well as sport-specific rehabilitation with an emphasis on runners and multisport athletes. Through his training with the vestibular program, Queen gained experience treating patients with symptoms related to concussions. In addition, he is trained in Matheson Functional Capacity Evaluations and offers the community a wide range of work rehabilitation solutions.
Most recently, Queen's interest in evidence-based orthopedic rehabilitation and manual therapy led him to complete AthletiCo's Orthopedic Residency Program, which has allowed him to advance his clinical reasoning and develop expertise in evidence-based practice.
"The specialty training I have received will allow AthletiCo McHenry to offer patients a number of services other local providers do not have," says Queen, who lives in Lake in the Hills. "Our new location on Route 31 will bring the McHenry community the choice and convenience that AthletiCo has been providing to Chicagoland communities for the past 19 years."
Patients at AthletiCo McHenry will have access to AthletiCo's industrial rehabilitation specialists, physical therapists, certified athletic trainers, and occupational/hand specialists who work with many local physicians. For more information about AthletiCo McHenry or to schedule a complimentary injury screening, please contact Brandon Queen at 815-385-0730 or via e-mail at bqueen(at)athletico(dot)com.
AthletiCo McHenry
1783 Richmond Road/Rt. 31
McHenry, IL 60050
Phone: 815-385-0730
Fax: 815-385-0572
Since 1991, AthletiCo has been the proud provider of rehabilitation, fitness, and performance services to many professional teams, performing arts companies, endurance programs, golf associations, volleyball clubs, high schools, colleges, and events in Illinois, Milwaukee, and Northwest Indiana.
AthletiCo provides orthopedic rehabilitation including physical and occupational therapy, work rehabilitation, performing arts rehabilitation, women's health therapy, spine control, pediatric physical therapy, vestibular rehabilitation, and athletic training. Expanded services include performance enhancement, fitness center memberships, golf fitness, endurance, nutrition, and massage therapy.
AthletiCo accepts all indemnity, PPO, POS, and WC plans including BC/BS, Humana, Medicare, Aetna (PPO/HMO), PHCS, UHC (PPO.HMO) and many others. As a courtesy to our patients, we verify insurance coverage.
AthletiCo Toll-Free Injury Hotline 877-ATHLETICO (1-877-284-5384)
http://www.athletico.com
###