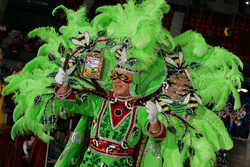 Lake Charles, LA (Vocus) December 21, 2010
From Jan. 6 to March 8, "Throw me something, mister!" is a common phrase around Southwest Louisiana. Lake Charles, La. hosts the 2nd largest Mardi Gras, second only to New Orleans. Once 12th Night kicks the season into gear, the more than 55 Mardi Gras krewes in Southwest Louisiana make the area a magical place to be. From parades and galas for the whole family, to cook-offs and Children's Day, rest assured there is always a family-friendly activity for everyone to enjoy.
Mardi Gras kicks off on 12th Night, Thursday, Jan. 6 (12 days after Christmas). The 2010 Royal courts of the many krewes will take this opportunity for one last promenade at the Lake Charles Civic Center at 7 p.m., making way for next year's Royal court. This event is the official opening of the 2011 Mardi Gras season and is open to the public. Tickets can be purchased at the door for $6, children under the age of 5 are admitted for free.
Mardi Gras weekend begins with the Merchant's Parade, Friday, March 4. Local merchants join in the spirit of the season to delight parade goers at this evening parade. The parade will roll through Lake Charles at 7 p.m.
The weekend rolls on with the Krewe of Omega parade at 2 p.m. on Saturday, March 5, that weaves around downtown, bringing festival-goers back to the Civic Center for a Zydeco Dance, from 3-5 p.m. There will also be a furry, four-legged parade at 3 p.m. with the Krewe of Barkus. Man's Best Friend never looked so good in green, gold and purple! And be sure to bring your spoon and appetite for the World-Famous Cajun Extravaganza and Gumbo Cook-off, being held at the Civic Center from 8 a.m. to 2 p.m. that day.
Although most Mardi Gras balls are private, two krewes in the area open theirs up to the public on Saturday night. The Krewe of Illusions will hold its own ticketed gala at 7:30 p.m. at the Lake Charles Civic Center. The Krewe of Cosmos will be strutting their stuff Saturday, March 5 at the Sulphur High School Auditorium beginning at 6:30 p.m.
Sunday, March 6 will bring a day full of activities! For just $6, you can taste from every pot at the Taste de la Louisiane, and bring the little ones to Children's Day, from noon – 3 p.m. This is a free cultural event. They will participate in arts and crafts, music and a Mardi Gras celebration that is just their size. Afterward, head outside for the Children's Parade, just for them and the whole family! Polish off Sunday night with a glittering spectacle of lights on the lake for the annual Lighted Boat Parade at 7:30 p.m.
Lundi Gras, or the Monday before Mardi Gras, March 7, has been coined the Cinderella Moment of the season with the Royal Gala, a night of glitz, glamour and royalty at the Lake Charles Civic Center. At 7 p.m. the 2011courts will promenade in noble fashion, preparing for the big Krewe of Krewes parade on the final night of Carnival. This event is open to the public and the only of its kind in the state of Louisiana. Tickets are $6 at the door and children under the age of 5 are admitted for free.
On Mardi Gras Day, March 8, wake up and head to Downtown Lake Charles for the Krewe de Charlie Sioux Block Party starting at noon. Food, music and fun will be going on all day. There will also be children's activities, so it is an event for the whole family. The Hot Rods, Classics and Motorcycle Parade will roar through Lake Charles at 1 p.m. Finally, that night, the streets of Lake Charles come alive for one final night of purple, green, gold and all the magic and revelry that can be mustered. Be sure to bring a bag to carry home all of your treasures!
Hotel room packages are available for those wishing to experience Mardi Gras in Lake Charles. Packages can be viewed at http://www.visitlakecharles.org/mambo and include lodging and a pass to many of the events listed above. For more details on the various Mardi Gras events, visit http://www.swlamardigras.com.
###