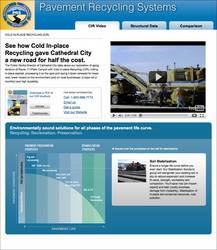 Los Angeles (Vocus) December 20, 2010
Reality2, a Los Angeles-based marketing agency, today announced the successful implementation of the firm's Reality-Based marketing model for cleantech businesses on behalf of Pavement Recycling Systems (PRS). The $35 million "green" road-building company is achieving its goals to increase its share of municipal and Federal public works infrastructure projects.
Reality2's "Reality-Based" marketing model helps cleantech companies close sales by overcoming barriers to adoption. Applying a Reality-Based analytical process to Pavement Recycling Systems, Reality2 looked at marketing realities driving the business such as misperceptions about the performance of recycled pavement, ROI concerns and the slow release of government stimulus funding. Reality2 then identified "areas of highest impact", crafted a positioning strategy, and implemented it in integrated marketing programs that were highly targeted in terms of messaging and audience.
Even though municipalities were under pressure to be green, the biggest problem was budget: how to fix aging infrastructure when federal "stimulus" funding was slow in coming. Using PRS technologies, which overcame previous performance problems with recycling, a city could now rebuild two roads for the price of one by reconditioning in-place asphalt. A credible image was key in convincing prospects of the quality of PRS's solution, both for the "specifier" (city or state government; developer) and prime contractors who subcontract to PRS. None of the PRS branding materials (from website to literature) were up to this task.
Click to view: Pavement Recycling Systems email campaign landing page
Part of Reality2's model to optimize return on marketing investment is to re-brand and strengthen foundational elements first, such as a company's website and sales support materials, before implementing outreach lead-generation programs such as email and advertising campaigns. The first phase of the program for Pavement Recycling was therefore rebranding, focusing on customer education and sales support. Reality2 created a new website and sales program (including brochures and presentations) that reinforced the price/performance advantages of Pavement Recycling's green technologies.
On completion of the rebranding phase of the program, Pavement Recycling was able to increase its market share of major roadway, airport and military base reconstruction projects in California, Arizona and Nevada.
Reality2 then recommended that PRS launch an outreach educational and lead-generation campaign specifically targeting two levels of government public works decision-making: "Administrators and officials" (such as Mayor/City Council) and the "Implementers" (such as city engineers). Segmented Emails address the different motivators at each level, and link to landing pages with videos, testimonials, PDFs, and calls to action. This 6-month campaign launched in December of 2010.
About Reality2
Reality2 is a branding, marketing and advertising agency that works with game-changing companies in fields such as cleantech, IT, publishing and life sciences. In business for over 30 years, the firm improves results with a reality-based approach to strategy development, bringing the strategy to life in integrated marketing programs that include websites, brochures, presentations, email/landing page campaigns, and advertising in all media both online and traditional. Reality2 LLC is based in Los Angeles and serves national clients throughout the U.S. – ranging from household names like Honda and the LA Department of Water & Power to technology startups. http://www.reality2.com
Media Contact
Farida Fotouhi, president
Reality2 Marketing
Farida(at)Reality2(dot)com
310.826.5662
Jeff Lettes, principal
Global Media Strategy (GMS) Communications
jlettes(at)globalmediastrategy(dot)com
twitter: svnewscomm
###