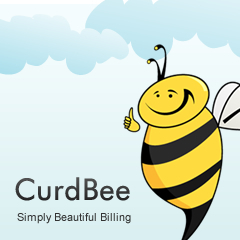 We're now forcing secure HTTP on all accounts and encourage other web application providers to do the same as it's essentially up to developers and publishers to make the web a safer place
Las Vegas, NV (PRWEB) December 23, 2010
CurdBee, an online invoicing application that focuses on providing quality online billing solutions for Small and Medium Enterprises and freelancers today announced that Secure Socket Layer (SSL) secured billing would hereafter come as default for all its users. A paid feature till now, CurdBee's adoption of secure HTTP for all interactions with the site puts it ahead of even Internet giants like Hotmail, which currently only supports it as an opt-in feature.
CurdBee on the other hand has made SSL mandatory for all accounts at all times. "Type http:// in front of your CurdBee URL now, and you'll notice that when the page loads the protocol would have changed to https," said Lakshan Perera, Lead Developer of CurdBee. "We're now forcing secure HTTP on all accounts and encourage other web application providers to do the same as it's essentially up to developers and publishers to make the web a safer place," said Perera.
Secure Socket Layer (SSL) encryption and its successor, Transport Layer Security (TLS), are cryptographic protocols that protect data as it is sent over a network, and make sure that it is only readable on the client and server side of the connection. This functionality makes it virtually impossible for information stolen or 'sniffed' in transit to be deciphered in any meaningful way.
"On the web of today, SSL should be a given, not a plus," said Lankitha Wimalarathna, CEO of Vesess Inc, the company behind CurdBee. "CurdBee PRO has plenty of other features that set it above our Standard Edition, and while we do want our users to take advantage of its functionality, we don't want them to have to upgrade to have a secure online billing experience."
It's not just the free users of CurdBee who received an update this week though. The free online billing software also patched its SSL service against session and cookie hijacking exploits such as those exposed in October by the Firesheep application. "CurdBee's cookies are all encrypted which means that hijacking a session while on a wireless network is just not possible," said Lakshan.
A web application that has long set standards within the online invoicing industry by offering free unlimited invoicing with no caps on the number of clients and invoices each user can use, CurdBee once again sets an example for others to follow by offering secure billing by default to all its users. With advanced features such as Online Estimates and Recurring Billing at an added cost, the invoicing platform is an excellent choice for everyone from freelancers to Small and Medium Enterprises.
Vesess is a Sri Lankan based web application development company with a presence in the US. Their flagship product, CurdBee, is a popular free online invoicing application for small businesses and freelancers that is known for its competitive pricing, continuous updates, and helpful support.
# # #