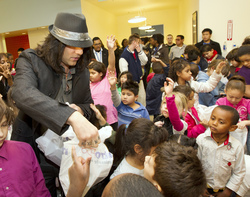 "I've been blessed beyond my wildest dreams. My mission in life is to try to be a positive force and help others in anyway I can." said Criss Angel
Wayne, NJ (PRWEB) December 23, 2010
This holiday season, thousands of kids in need across the country, found a magical Santa in Criss Angel. The "Magician of the Century" and representatives of Ideavillage Products Corporation appeared this week at the Boys & Girls Club in Las Vegas bearing a portion of the 150,000 gifts they bestowed on that organization and the Make A Wish Foundation. The individual magic trick gifts, created by Angel and distributed by Ideavillage, are designed to provide hours of fun and inspire budding magicians while fostering math, social, communication, forward thinking and creative skills. Valued at $1 million, the gifts are being distributed across thousands of Boys & Girls Clubs and to Make A Wish chapters in the U.S.
During the surprise visit at his local Boys & Girls Club, Angel interacted and talked with the youth, encouraging them to "work hard, believe anything is possible, and to always try to do the right thing." It is a philosophy Angel practices and which led him to give back. Moved by the children's joy, curiosity and excitement, Angel spontaneously gifted the 113 attending children with an additional $100 each. "I've been blessed beyond my wildest dreams. My mission in life is to try to be a positive force and help others in anyway I can," said Angel, adding, "That's one reason we're launching the Criss Angel magicJAM in January, 2011." According to Angel, magicJAM will be a broadcast live via his website on Saturday's at 4:30 PM (PST), and free to those who want to learn magic. Angel added, "I must admit the feeling you get from giving outweighs anything – it's priceless."
Through guidance-oriented programs emphasizing academic success, good character and leadership, and healthy lifestyles, Boys & Girls Clubs of America help young people in need reach their full potential. Aligning with the Club's cornerstones of service, training, life skills, and the arts, Dulcinea Almazan, president of the Boys & Girls Clubs of Las Vegas, said, "Our young people are inspired by Criss' immense talent and his special visit to the Club this holiday season."
In addition, the Make-A-Wish Foundation was named a recipient of Angel's magic trick gifts. A long-time supporter of Make-A-Wish, Angel earned the organization's Chris Greicius Celebrity award in 2007 and Male Wish Granter of the Year award in 2010. Karen Iglesias, president of Make-A-Wish Foundation of Southern Nevada, said of the gift, "We can never thank Criss and Ideavillage enough for their generous gift to our courageous Wish Children and the families who love them."
Despite a tough economy, Angel's company, Angel Productions Worldwide Inc., and his distribution partner Ideavillage Products Corporation, known for their "As Seen on TV" products, have had a good year. Ideavillage CEO and father of 5, Andy Khubani, said, "It is a blessing to be able to share the magic with those in need." And that is the magic of the season.
# # #