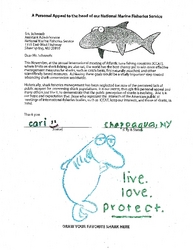 We're thrilled to be partnered with a great shark advocate like Jim Toomey and pleased to see passage of the Shark Conservation Act and to have a receptive audience at NOAA Fisheries.
Washington, D.C. (Vocus) December 21, 2010
Save the sharks is the message in the nation's capital this week as thousands of letters collected from visitors to the National Aquarium, Washington were personally delivered in sacks by syndicated cartoonist and Aquarium partner Jim Toomey to National Oceanic and Atmospheric Administration Fisheries (NOAA) Assistant Administrator Eric Schwaab. The letters are personal requests asking the agency to help promote shark conservation, specifically on the topic of overfishing which remains the number one threat facing sharks today. Additional efforts to protect sharks mounted this week on Capitol Hill as both the Senate and House passed the Shark Conservation Act, sponsored by Senator John Kerry (D-MA).
Toomey is the creator of Sherman the Shark, a popular cartoon character that appears daily in over 150 newspapers in the U.S. and around the world to help promote greater awareness and protection of these ancient, mysterious and often misunderstood ocean dwellers. Toomey's fun loving character is also the inspiration and theme of Sherman's Lagoon, the National Aquarium's newest exhibit which features interactive workstations, educational shark videos, and shark myths and conservation messages from Sherman the Shark throughout. Thousands of Sherman's Lagoon visitors have signed and submitted the letters that were delivered today. Signers of the letters also added their own personal artwork renderings of their favorite sharks to the letters, as seen here.
"Sharks are receiving a welcome holiday gift of conservation and awareness this season. We are amazed at the number of letters and impressive artwork collected by our visitors since we opened Sherman's Lagoon in August. It is one of our most popular attractions at the Aquarium," said National Aquarium Executive Director Bob Ramin. "We're thrilled to be partnered with a great shark advocate like Jim Toomey and pleased to see passage of the Shark Conservation Act and to have a receptive audience at NOAA Fisheries."
Jim Toomey, Bob Ramin and several children delivered more than 6,000 letters from kids from around the country to NOAA Fisheries headquarters in Silver Spring, Maryland. NOAA Fisheries Administrator Eric Schwaab personally accepted the delivery and sat down with Toomey to discuss some of the leading efforts by NOAA to conserve sharks.
"I am pleased to know that so many children around the country are concerned about sharks," said Eric Schwaab, Assistant Administrator for NOAA Fisheries. "Sharks face a number of threats including misunderstanding by humans. Our Agency will continue to work hard to educate the public about the value of sharks to our oceans, and to learn as much as we can about them, so we can help them recover from overfishing, which is their biggest threat."
About the National Aquarium, Washington DC
Serving visitors since 1931 from the Department of Commerce building, the National Aquarium Washington, DC is home to America's Aquatic TreasuresTM, over 250 species including sharks, eels, alligators, amphibians, loggerhead turtles and more. Special exhibits highlight the animals and habitats of the National Marine Sanctuaries Program and freshwater ecosystems of the United States and our territories. The National Aquarium Washington, DC is located in the Commerce Building on 14th Street between Pennsylvania and Constitution Avenues in NW Washington, DC, 20230.
General Admission $9; seniors and military, $8; Children 3-11, $4; younger than 3, free. Visit National Aquarium or call 202-482-2825. The National Aquarium Washington, DC is a private, non-profit organization funded by private and public support and admission revenue to operate.
###