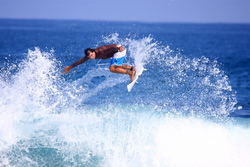 "The rash guard business has evolved into knowlegable consumers wanting better rashguards that have unique features including fabric technology, fit, color, graphics and technical innovation.
Huntington Beach, CA (PRWEB) December 22, 2010
Marc Spitaleri President of Victory® announced that Victory has sold over 2 million domestically produced rashguards over the past 8 years that all have been domestically made not imported. "The rash guard business has evolved into knowledgeable consumers wanting better rashguards that have unique features including fabric technology, fit, color, graphics and technical innovation. Victory has come out with its Kore Dry Nylon Lycra which repels water, dye sublimation coloring (molecular tunneling the most advanced form of sublimation) and our new satin seam." All these features for those who use rash guards in the water for stand up paddle, surfing, body boarding, sailing, kite surfing and anyone that's involved in active water sports deserve Victory® rash guards.
Technical innovation has always been at the forefront of Victory®, launching glued and blind-stitched seamed products to the Surf Specialty and Water Sports markets and now the satin seam. As larger apparel brands with larger budgets entered the rash guard business, independents like Victory® faced marketing challenges. Maintaining itself behind the scenes, Victory® successfully has manufactured OEM goods for many of those brands and others - particularly in the rash guard performance apparel category and has done it in the United States not overseas. Over the past few years Victory has manufactured for many brands for events, retail sales and for some of the top athletes worldwide involved in many different sports including MMA and Professional softball players. Follow Victory Kore on Facebook where over 2500 plus and growing are following Victory and Victory's products, events and innovations.
The KoreDry Surf Shirts are the only surf shirts actually designed to go in the water. KoreDry Rash guards don't absorb water into the fibers so they insulate from heat and cold even when in the water. Victory took all the stretch and give out so they maintain their shape in the water instead of ballooning like T-shirts and other so called surf shirts. They are ideal sun protection with an SPF up to 50.
Today Victory not only manufactures rash guards used in water sports but also for the MMA (mixed martial arts), fight shirts, fight rash guards, baseball, football, workouts, runners, cyclists, softball, sun protection shirts and rashguards, lycra shirts, lycra rashguards, base layer apparel and many other uses. Victory's use of fabric for many products along with V-Core sublimation has helped set us apart from the train of imported and inferior rash guards being imported into the U.S. from overseas. What is KoreDry? KoreDry(TM) fabric is a revolutionary technological advancement for water sports. This material when immersed in water will remain dry at the fiber's core enabling the garment to continue insulating and while out of the water, dry incredibly quick.
Victory makes KoreDry(TM) garments in both a nylon lycra stretch fabric that fits like a rashguard and a 100% nylon non stretch fabric (Victory actually took out stretch and give) so it is designed to fit loose. Since it has minimal stretch and doesn't absorb water, it won't get as baggy as a t-shirt, making it the ideal surf shirt for the tropics or for any one who does not like wearing tight fitting shirts in and out of the water.
The KoreDry(TM) U.V. tested at UPF 50+ (equal to SPF 150+!) factor both wet and dry giving it a rating you can depend on to protect your skin against the damaging rays of the sun when in or out of the water.
The KoreDry series incorporates the new Satin Seam technology into its shirts. The Satin Seam thread consists of microfilament textured yarns that create an unmatched buttery soft feel.
A product line extension of the successful "Loose Fit" KoreDry "Surf Shirts", the "StreetSweeper" Series is designed specifically for stand-up paddlers. The original "StreetSweeper" Hoodie, has long sleeves and a hood. This enables you to stay out on the open water for longer sessions with the comfort and protection to deal with the elements.
From that has grown a whole range of "StreetSweeper" KoreDry pieces designed for SUP'ing for men, women and children. The Street Sweeper series incorporates the new Satin Seam thread technology to make the StreetSweeper Series the best SUP "Surf Shirts" period.
At times in the summer and when the trades blow in the tropics you need just a little extra warmth to stay out that extra hour. Our "Kill the Chill" line fills that need with brand new technologies developed exclusively for Victory®.
Ultra stretch neoprene is used with KoreDry(TM) lycra in the side panels where its superior stretch allows for very easy on and easy off applications eliminating annoying zippers, without sacrificing flexibility and added warmth in the water.
The line also uses nylon laminated to neoprene with a super soft slippery alloy which is designed to be comfortable against the skin while not absorbing water making it warmer and lighter than regular neoprene.
The Kill the Chill series incorporates the new Satin Seam technology into its Jackets. The Satin Seam thread consists of microfilament textured yarns that create an unmatched buttery soft feel. The thread is created in North America so don't look for anything like it from off shore any time soon.
For 2011 Victory is expanding their women's line as women are participating in all these sports in a huge way. Victory is adding several Capri length pants to the line in KoreDry lycra and the revolutionary new Victory Balance Bra.
This performance bra features Neoprene for support and KoreDry lycra so it doesn't absorb water as well as patent pending Balance Bra engineering which enables the bra to eliminate breast movement which can hinder athletic performance. Most performance bras pull up which raises the center of gravity creating more movement and strain on the shoulders whereas this bra holds breasts comfortably against the torso eliminating both movement and shoulder fatigue. This is also a great example of our water sports technologies having great crossover to dry land sports as other bras naturally loosen up when wet caused by sweating and so offer even less support whereas the Victory Balance Bra doesn't absorb water so it doesn't loosen up from sweat and the neoprene provides more comfortable support so it is far superior for all sports.
As the much requested Victory® has once again become a favorite among the world's most well-known events and athletes, the brand focuses on specialty collections built from its revolutionary KoreDry™ Technology - a water repellent fabric which enables leading base layer products like The Tropiskin™ "SurfShirt" and the new Base™ Series - which both add warmth and comfort alone, or under wetsuits in cold conditions and is being used a compression jersey or shirt for athletes world wide.
With the award winning success of the release of the docu-drama "Bustin Down the Door" from Shaun Tomson, starring the Seventies former team-riders Mark Richards and Michael Tomson along with Victory KoreDry™ ambassador and consultant Peter "PT" Townend who has been utilizing the the new Victory KoreDry product line including its rash guards religiously worldwide the past two years, the Victory Brand and its best selling rash guard line is engaging in the consumer market with innovative features and product innovation.
Victory® delivers performance water sports apparel including the best rash guard on the market used in and out of the water. Accept nothing less and follow Victory on Facebook ( http://www.facebook.com/VictoryKoreDry) or go to its web site (http://www.victorykoredry.com). Better yet, see Victory at the 2011 Surf Expo in Orlando Florida or one of the many events we will be attending in 2011. Victory's products are made in the United States and exported on a global basis from Huntington Beach California.
# # #