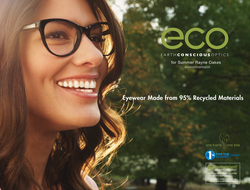 "There's no such thing as a 100 percent sustainable company," says Alessandro Lanaro, CEO of Modo. "We decided that we would not only reduce the footprint of making the product, but look for ways to offset the remaining footprint by giving something back.
New York, NY (PRWEB) December 23, 2010
Eco proudly presents an article published by Fast Company naming the Eco collection as "the greenest glasses on the planet". Fast Company is the world's leading progressive business media brand, with a unique editorial focus on innovation in technology, ethonomics (ethical economics), leadership, and design.
The article describes in detail the foundation of the eco concept and the development of this product based on sustainability. The release also focuses on Eco's various partnerships and collaborations that not only make a difference in the eyewear industry but also in the well-being of others and the environment.
Eco is a radically new approach to eyewear using recycled metal and plastic without sacrificing quality, design and price. Eco plants a tree for each frame sold and makes it easy to donate your used eyewear to people in need around the world.
To read the full article, please visit the link:
http://www.fastcompany.com/1708522/eco-specs-the-greenest-glasses-on-the-planet
About Eco: Eco is the first optical and sunglass collection entirely made of recycled materials. Eco received an Environmental Claims Validation™ (ECV) from UL Environment (ULE), a wholly-owned subsidiary of Underwriters Laboratories (UL), a world leader in product evaluation. The ULE validation substantiates Eco's assertion that the eyewear is made of at least 95 percent recycled stainless steel and plastic. Eco plants a tree for each frame sold together with Trees for the Future in a program called One Frame, One Tree. This program is upheld with the standards of 1% of the Planet, a worldwide network of businesses in 38 countries that give at least 1 % of their annual revenue to environmental causes. In addition Eco has special packaging. The frames are shipped in a pouch of organic cotton and packaged with 100 percent recycled paper. Inside the package is a return envelope for customers to donate their unwanted glasses to OneSight.
###