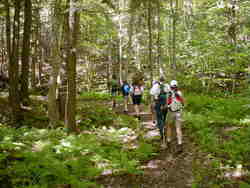 New Life Hiking Spa has been selected by SpaFinder Reader's Choice Awards as one of the top ten spas in the world for Hiking, Weight Loss and Affordability for five years in a row. It was also selected as one of the top 10 fitness vacations for 2010.
Killington, VT (PRWEB) December 31, 2010
New Life Hiking Spa is one of the oldest and most established destination spas in the country. Founded in 1978, New Life has been set in the Green Mountains for over three decades. Long regarded as one of the country's most affordable destination spas and for it's award winning hiking and weight loss programs; New Life is offering discounts on many of its spa vacation packages.
New Life Hiking Spa is currently accepting reservations for the 2011 season which runs from May 19- October 2, 2011. Reservations made by January 31, 2011 will receive $20 off single occupancy (per night) and $20 off double occupancy (per person/per night). The $20 off discount is valid from May 19 until September 15, 2011.
The 11 night Weight Loss Retreat during the dates of May 19-30 will receive a $300 discount off the total price. This breaks down to a nightly, all inclusive price of $185 per night/per person for double occupancy and $205 per night for single occupancy.
Rates include deluxe room accommodations, three healthy meals a day, snacks, daily guided hikes, one massage for every three night stay, all yoga and fitness classes, evening lectures and cooking demonstrations.
About New Life Hiking Spa:
New Life Hiking Spa was selected by MSNBC as "one of the top 10 fitness vacations in the world" earlier this year, by Health Magazine as "one of four great weight loss spas" in 2008, and by Shape Magazine as "one of the eight best weight loss spas" in 2006. For five years in a row (2006-2010) New Life has won Best for Weight Loss, Best for Hiking and Best for Affordability by SpaFinder Readers' Choice Awards.
Founded in 1978 by Jimmy LeSage, M.S., New Life Hiking Spa is an internationally recognized destination spa located in the beautiful Green Mountains of Vermont. Known for its exhilarating hiking program, a world renowned weight loss retreat, delicious healthy meals and a comfortable atmosphere, New Life Hiking Spa offers the chance to experience the peace of the outdoors in a down-to-earth, country inn environment. It is ideally suited for small groups, couples or individuals trying to improve their fitness level and eating habits. New Life is open each year in Killington, Vermont from May through October. New Life offers a variety of vacation options including a 2-4 day mini-getaway, a 5-10 day Jump Start Program and the 11-day or longer Weight Loss Retreat.
More information can be found online at http://www.newlifehikingspa.com or http://www.WeightLossSpa.com
Contact:
Kathleen LeSage
802-353-0895
###