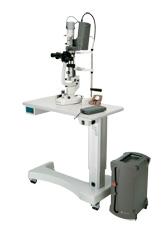 "SLT has the potential to revolutionize the treatment of open-angle glaucoma in Africa and other underprivileged regions of the world," said Dr. Pazit Pianka, Senior Ophthalmologist and the Lumenis Vision Medical Director.
Yokneam, Israel (Vocus/PRWEB) November 29, 2010
Lumenis® Ltd., the world's largest medical laser company and a global developer, manufacturer and seller of laser, light-based and radiofrequency devices for ophthalmic, aesthetic, and surgical applications, announced the opening of its first SLT site in East Africa at "Lion's First Sight Eye Hospital" in Loresho, Nairobi, Kenya, in collaboration with Right-to-Sight – a non-profit organization registered at the Royal College of Surgeons in Ireland.
"SLT has the potential to revolutionize the treatment of open-angle glaucoma in Africa and other underprivileged regions of the world," said Dr. Pazit Pianka, Senior Ophthalmologist and the Lumenis Vision Medical Director. "Our goal is to demonstrate, as we have successfully done before, that SLT is a clinically viable solution and also the most cost-effective one for the healthcare system in general, and glaucoma patients in particular," added Dr. Pianka.
The installation of the first unit is part of a multi-center clinical trial that was co-sponsored by Lumenis, and Lumenis contributed its Selecta II SLT Laser systems for this purpose. The Selecta II is a portable SLT device which can be used in outpatient clinics and also transported to remote areas, in order to maximize accessibility to glaucoma patients.
"Glaucoma is responsible for up to 20% of the preventable blindness cases in Africa, yet there is less than one ophthalmic surgeon per one million inhabitants across the continent," said Dr. Kate Coleman, ophthalmic surgeon and founder of Right-to-Sight. "Furthermore, standard medical treatments such as prostaglandin-analogues are largely unavailable, difficult to store at correct temperatures, and often cost more than a local monthly wage. Right to Sight, together with Lumenis, believes that glaucoma in Africa must be addressed as a matter of urgency in view of the recent statistics from the IOVS survey, and in order to alleviate the plight of the millions of individuals in Africa who unnecessarily lose their eyesight to glaucoma," added Dr. Coleman.
Dr. Pianka reported that during the first two days of the study 12 eyes of 8 glaucoma patients were treated using Lumenis SLT technology. Patients were brought to the hospital from rural areas as part of the "Outreach Program", which was designed to alleviate blindness mainly due to cataract and is now - with the availability of SLT - being modified to screen for glaucoma and support this objective.
Intraocular pressure (IOP) was meaningfully reduced in all patients following SLT. Patients reported no pain during and/or following the procedure, which lasted for an average of 10 minutes per eye. IOP levels at one-day post surgery were reduced in a range of 23%-46%, an outcome considered "remarkable" by the attending medical professionals on site. Patients will return for follow up examinations at 2 weeks following the procedure, and also at 1, 3, 6, 9 and 12 months – as defined in the study protocol.
"We are proud to collaborate with Right-to-Sight in this noble effort to prevent unnecessary glaucoma blindness in Africa," said Kfir Azoulay, who heads Lumenis Vision's Global Marketing Organisation. "SLT offers open-angle glaucoma patients in Africa and around the world the benefit of a clinically proven single treatment that can halt the progression of the disease and maintain vision. Furthermore, SLT also simultaneously eliminates or significantly reduces dependency on daily intake of costly medications, which also produce detrimental side effects," concluded Mr. Azoulay.
About Lumenis
Lumenis Ltd., the world's largest medical laser company, is a global developer, manufacturer and distributor of laser and light-based devices for Aesthetic, Surgical and Ophthalmic applications, and has more than 800 employees worldwide. Lumenis holds approximately 250 patents, has over 75 FDA clearances, an installed base of over 80,000 systems and presence in over 100 countries. Lumenis endeavors to bring the finest state of the art technology products to the market, fulfilling the highest standards of excellence, quality and reliability, delivering premium value and service to its customers. The name Lumenis is derived from the Latin words meaning "Light of Life" highlighting the light which is the basis of our technologies used to enhance life. For more information about Lumenis and its products, please visit: http://www.lumenis.com
About Right-to-Sight
Right to Sight, which was founded and managed by currently-practicing ophthalmic surgeon Dr. Kate Coleman, aims to bring cutting-edge technology to Africa in order to foster and expedite the training of expert ophthalmic surgeons through development of high-volume and high-quality tertiary training centers. Right-to-Sight has spent four years, in eight African countries, developing the African prototype for sustainable training, by successfully adapting the Aravind model of cross subsidy. Right to Sight is also exploring the use of SLT as part of cross-subsidy programs (i.e. those who can afford to subsidize free treatments for the poor) and aims, together with Lumenis, to expand the multicenter glaucoma service to additional countries in Africa over the next five years. For more details, inquires and donations, please contact info@righttosight.com
For further information contact:
Michelle Maydan
Director of Corporate Communications
1-866-569-0597
Lumenis®, and its logo are trademarks or registered trademarks of the Lumenis Group of Companies.
# # #