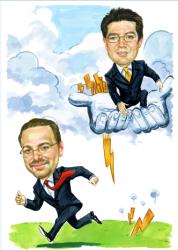 It's fun when you can afford to play ball with the big boys and humiliate attorneys who are diametrically opposed to our Constitution.
Massapequa, NY (Vocus/PRWEB) December 01, 2010
Sometimes speaking your mind really does work. Aaron Wider, the billionaire businessman best known for the tirade of all tirades caught on tape, is reaching new heights of fame online.
And now, after weathering intense media scrutiny, Wider reveals the launch of a cavalcade of controversial cartoons lampooning his courtroom opponent, attorney Robert Bodzin. The CEO who can't keep his mouth shut plans to dump all available fuel on this hottest of fires. And this is just the beginning.
Meanwhile, Wider's "Best Deposition Ever" video is going viral. YouTube is now registering over 10,600 views for the controversial clip of his heated testimony. Google shows over 524,000 search results for Aaron Wider video(s); 1,380,000 for Aaron Wider; and 1,220,000 for Aaron Wider press releases. Both Philly.com (The Philadelphia Inquirer) and Forbes.com have covered his antics, and he's made the rounds of the blogging world as well.
Forbes.com included Wider in its "Ten All-Time Great CEO Outbursts". Wider came in at an impressive number five, along with nine other outspoken honchos such as George Steinbrenner (perhaps the all-time hits leader).
Wider has also made the "World's Best CEO Tirades" list, as reported at BusinessPundit.com. Wider was voted number twelve, alongside heavy hitters like Bill Gates and Marc Cuban--heady company indeed.
It all started four years ago, when GMAC Mortgage, a sizeable mortgage loan corporation, sued Aaron Wider's HTFC Corporation for allegedly selling GMAC millions of dollars in improperly secured home loans (GMAC Bank v. HTFC Corp., Civil Action 06-5291, Eastern District of Pennsylvania). Wider disputed the charges and counter-sued. Eventually, the case was thrown out, but in the meantime, Wider's penchant for telling it like it is got him in a bit of trouble--to the tune of $29,323.
A federal judge in the Eastern District of Pennsylvania, Eduardo Robreno, levied the sizeable sanctions against Wider and his counsel Joseph Ziccardi, alleging misconduct in the courtroom during a deposition in a civil lawsuit in September 2007. Court transcripts included in Judge Robreno's 29 February 2008 Order reveal that Wider used expletives during his deposition at least 73 times.
At one point in the two-day twelve-hour proceedings, plaintiff's counsel Robert Bodzin asked Wider what the initials in his company's name (HTFC Corp.) represented. "Hit That F[reaking] Clown," Wider retorted. Wider has now embraced that phrase, as well as "Nobody F***s with the Wider" (another reference to what The Philadelphia Inquirer dubbed "The Deposition from Heck"), as defining personal statements. Wider considers them badges of honor.
In an interview last week, Wider was unapologetic. He defended his vocabulary as a mix of free speech and colloquialism. "It's in usage," he said of the 'F-word'. And using it, he added, is his "constitutional right." Wider insisted he had never impeded the deposition.
"Bodzin told me he's conducted hundreds of depositions and had never run into someone like me before. He said it was surreal," Wider remembered. "Bodzin said that I seemed to be someone of 'significant intellect', but that I should have recognized that even if I believed what I was saying, it wasn't in my best interest to continue like that--which is complete nonsense," Wider recounted. "What's he so afraid of?"
Reflecting upon Bodzin's comments, Wider smiled and said, "It's fun when you can afford to play ball with the big boys and humiliate attorneys who are diametrically opposed to our Constitution. As we all learned in school, the First Amendment guarantees that 'Congress shall make no law...abridging the freedom of speech...' That's a right I'll defend to my dying day."
So what's next for Aaron Wider? He's dedicated himself to helping companies and individuals eliminate illegal mortgage promissory debt, and to fighting mortgage fraud wherever it may be found, "every day of the week." Oh, and to draw more cartoons.
News release courtesy of PressReleaseDistribution.com.
###