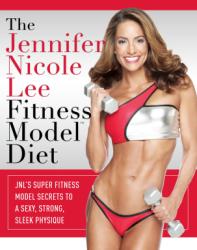 Strong is the new skinny! - JNL
Miami, FL (Vocus/PRWEB) December 01, 2010
"The Jennifer Nicole LeeFitness Model Diet Book" is an excellent gift giving idea, from the work out haters to the fitness fanatic alike. In her newly released book, JNL states "strong is the new skinny", empowering women to be their strongest, fittest best.
Being a woman in today's world means being emotionally strong, and it is becoming far trendier to boast a strong physique to match your personality than it is to look skinny and underweight. Skinny is out and sleek is in.
Women's fitness magazine sales are on the rise, and more and more celebrities are turning to the treadmill to tone up rather than shunning their meals. Heroin chic to sexy and sleek is taking over the world with models, celebs and the average Joe all turning to strength training to look better.
How fitness magazines can help
Fitness magazines aimed at women looking to get toned and sexy are flying off the shelves at the moment. Fitness magazines show women how to exercise with weight training to get the results that you want, and there is no need to worry about getting too muscle-bound — there is a major jump from being toned and fit to looking like a female body builder!
These fitness magazines are great for learning more about good diet and exercise, and they are aimed at real women rather than superwomen; making them easy to relate to when reading.
What's the difference between skinny and fit?
Both of these descriptions mean you will be slim and slender, but one will mean you have a svelte figure with womanly curves and be able to eat tasty foods — while the other means you are likely to have to constantly fight the hunger pangs, have ribs sticking out of your stomach, and have a gaunt appearance from a lack of nutrients.
There are naturally skinny people out there, but those who starve themselves simply to look skinny do endless damage to their insides and look far from sexy on the outside.
I am skinny but I want to look fit!
If you have a naturally skinny frame or have been starving your body of food for far too long just to look slim, but want to get fit — there are a few things you can do:

Improve your diet — Swap your cigarette and grapefruit diet for tasty salads, vegetables and low-fat but high-energy foods, like the recipes found in "The Jennifer Nicole Lee Fitness Model Diet Book: JNL's Super Fitness Model Secrets to a Sexy, Strong, Sleek Physique". This means that you won't pile on the pounds massively but you will fuel your body to give it the energy that it so desperately needs to workout.
Ignore the myths — "You can't eat and be slim", "if you lift weights you will look like a freak" and "skinny is sexy" are myths that women fight to live by way too often. Ignore them as they are complete lies.
Work out — Head to the gym and try using the services of a personal fitness instructor and explain to them that you want to tone up and lose your skeletal look. Fitness magazines, books and websites are also useful ways to learn what exercises are good for toning up.
For more "Strong is the New Skinny" fitness expertise and top beauty tips, visit http://www.JNLFitnessModelDiet.com
Please contact Jennifer Nicole Lee for more media, articles and interviews.
###