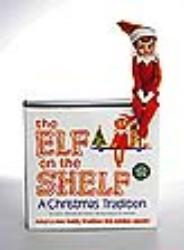 Atlanta, GA (Vocus/PRWEB) December 02, 2010
What do John Grisham, Mark Twain, former President Bush and a Wimpy Kid have in common? They have all been trumped by a Christmas book and elf. For a second year in a row, The Elf on the Shelf: A Christmas Tradition® has flown to the top spot on the Barnes & Noble.com Best-sellers list. The title which has held the top spot since November 29th, also holds the number nine spot for a variation of the same title.
While many would view this repeat performance as a rare feat, the ranking is made even more exceptional by the self-published stature of the title. What started as a homespun tradition has grown exponentially into one of the most-talked about books of the holiday season. The small company, run by family trio Carol Aebersold, Chanda Bell and Christa Pitts, has managed to sell over 1,000,000 Elf on the Shelf® gift sets—surpassing celebrity memoirs, famed authors and notable children's books.
The coveted spot of number one is not chosen by a "committee" or a "secret society," but rather the consumer directly. The list, based on real-time sales results, is updated hourly and The Elf on the Shelf® has been an impressive performer. Adding to its holiday domination, the title is currently sitting at number one on the Publisher's Weekly list of best-selling children's books and on the USA Today best-sellers list where it currently rests at number 16.
The Elf on the Shelf: A Christmas Tradition® tells the story of a scout elf, sent by Santa, who watches over children during the holiday season. At night, it will fly back to the North Pole and give Santa "a full report." In the morning, children will wake up to find their family's elf in a new spot; creating a fun-filled game of hide-and-seek for the whole family.
"As children, the holidays never started until our elf, Fisbee, showed up. Just seeing how far our family elf tradition has come is unbelievable," explains Chanda Bell, co-CEO and co-author of The Elf on the Shelf®. "People doubted us and thought we wouldn't succeed, but seeing our product reach number one on the best-sellers list for a second year in a row, validates all of our hard work and perseverance. I think we have made Santa very proud!"
###