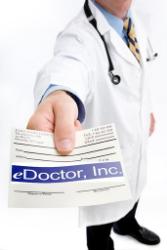 Doctors will be able to take advantage of a rebate of 2% of their annual gross Medicare bills starting in 2010, that is this year.
Rockville, MD (Vocus/PRWEB) December 02, 2010
eDoctor, Inc. a web-based health IT company and X-Med have partnered to integrate eDoctor's ePrescribing into X-Med's Linux based practice management system.
This is the first major partnership for eDoctor in showcasing an operating system-neutral (Windows, Mac and Linux) design.
"Our existing X-Med users across the country will now have the option of adding e-Prescribing functionality to their practices seamlessly with no hassle, ensuring that they will be able to qualify for MIPPA incentives," said Alex Chigos, President of X-Med.
"This partnership with X-Med, the first Linux-based practice management systems in the country, represents a significant milestone for eDoctor in becoming accessible to all interested physicians regardless of the status of their current practice IT setup," said Dr. Ingrid Chung, Co-chair of eDoctor's Medical Advisory Board.
Since rolling out the e-prescribing system over two months ago, the response has been overwhelming, with doctors signing up all across the country. Doctors responded positively to the implementation of eDoctor's e-prescribing program into Apple's® iPad®.
About X-Med
X-Med® based in Boca Raton, is a powerful and intuitive healthcare practice information system designed for practices of all sizes from solo practices to multi-physician, multi-office groups. Physicians, clinics and billing services across the US use X-Med to automate the information management tasks associated with providing health care.
http://www.x-med.com/index.htm
About eDoctor, Inc.
eDoctor, Inc. is a healthcare IT company based in Rockville, Maryland. Its Healthcare IT Platform consists of cutting edge practice peripherals, including the industry's most intuitive and efficient e-prescribing software, live data syncing, and other technology tools. eDoctor, Inc's. mission is to listen to doctors and deliver what doctors want and need. This introduction marks a major step for eDoctor's Health IT Platform. The next few months will see a series of practice peripherals, including joint marketing programs with select EMR systems that will dramatically increase efficiency, save money and increase revenue.
*Apple® and iPad® are registered trademarks of Apple Inc
# # #