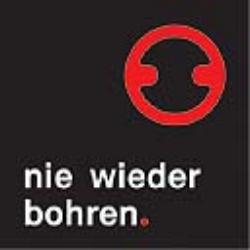 The most safe, simple and secure mounting hardware and accessories for bath and kitchen.
Greensboro, NC (Vocus/PRWEB) December 07, 2010
German Engineered Bath Safety Grab Bars, Decorative Bath Accessories and a patented no drilling required mounting technology for tile, natural stone, glass, metal and most plastics, now available in the United States.
Leave it to German ingenuity to solve the vexing issue of drilling holes into high-quality surfaces like tile or natural stone to install a grab bar, towel ring, shower caddy, or some other bath or kitchen accessory. Years in development, the patented hole-free fastening technology of nie wieder bohren, a rapidly growing success in a number of European markets, is finally available in the U.S. exclusively through Innovative Product Sales International (IPSI).
The mounting hardware is surprisingly simple as are many of the best ideas. It combines the strength of a high-performance, single-component commercial adhesive used in the aircraft and automotive industries with a patented adapter to form a permanent bond on smooth and rough, hard, flat surfaces, even concrete. The nontoxic commercial adhesive has properties that make it practical to use in both indoor and outdoor environments. The adapters accommodate a precise amount of adhesive and provide enough air contact to ensure that the adhesive hardens evenly. Finally, the mounting system was also designed to be reversible. In most cases, it can be removed leaving the hard surface intact.
Note: The system meets ADA testing requirements for use with Bath Safety Grab Bars.
No holes to drill or fill. This simple alternative to drilling allows the professional and do-it-yourself consumer, to install a full range of accessories for kitchen & bath while preserving the integrity and beauty of expensive tile, natural stone, glass, metal & wood. The system can be installed in just minutes. The technology offers simple, safe and secure installation for the complete range of products.
# # #