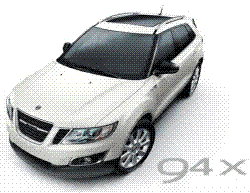 The 9-4X will be exactly what many Saab enthusiasts have been waiting for...
Atlanta, GA (Vocus/PRWEB) December 07, 2010
Saab has entered into the fast growing crossover arena with the unveiling of the Saab 9-4X at the Los Angeles Auto Show this November. They also announced that with the first 500 pre-orders, buyers would be given a Wi-Fi Apple iPad through the program that runs between January 15th and February 28th, 2011.
Stacey Hodges, General Manager of Jim Ellis Saab in Atlanta, GA stated, "The 9-4X will be exactly what many Saab enthusiasts have been waiting for and with the extra incentive of a free iPad, the demand for pre-orders should be noteworthy."
The Saab 9-4X five passenger crossover will be available spring 2011 and sent to Saab dealerships across the country. Stacey Hodges added, "We're excited about the new 9-4x crossover from Saab. It should appeal to the independently-minded crossover buyers who are looking for a fresh, alternative choice."
The muscular and sporty 9-4x was heavily influenced by the AeroX concept, showcasing a deep, three-port grille and an 'ice-block' effect with the lighting theme. The pillars on the windshield and doors are also disguised to create the signature wraparound effect. Additionally, there are a lot of subtle references to Saab's aviation heritage such as the driver focused cockpit style layout and altitude style speed read-out. The Saab will come in two V-6 engine choices, naturally-aspirated or turbocharged and both of which are mated with 6-speed automatic transmissions under adaptive, electronic control.
To find out more on the Saab 9-4x, visit http://www.jimellissaabatlanta.com/saab-9-4x.htm for more details on the 9-4x's features, specifications and the free Apple iPad offer. Also, visit http://www.jimellissaabatlanta.com or call 877-219-6157 to speak to a Saab representative for more information on all Saab models including the fast approaching Saab 9-4x crossover.
###