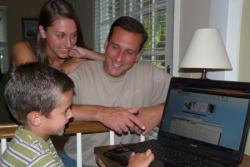 Our goal was to develop an intuitive tool that parents can easily work into busy schedules and that visually shows kids in a fun way how their money can work for them
Ann Arbor, MI (Vocus/PRWEB) December 07, 2010
Two entrepreneurial Michigan dads are helping solve a problem that has confounded parents for centuries -- how to raise kids who understand how money works and how to use it wisely. The best-friends, with 14 kids between them, developed FamilyMint.com, an interactive, online tool that helps parents raise money-smart kids.
Jeff Eusebio, 40, and Bob Masterson, 45, met in a church group 11 years ago in Rochester Hills, MI. They hit it off right away, and why not? As mega parents (five kids for Eusebio; nine for Masterson), they had a lot of the same challenges, one of which was reining in kids' spending habits and teaching them how to save and "budget the I wanna's," a favorite saying of Masterson.
The two also shared an entrepreneurial itch and brainstormed business ideas, researching the feasibility of several. The idea for FamilyMint dawned on Eusebio in 2008 when he recognized his own frustration in hassling over allowances, curtailing his kids desire to spend, and igniting excitement for learning about money. He saw a good opportunity, and Masterson agreed.
With Eusebio's extensive background in information technology and Masterson's in product development, the necessary start-up skills were in place, and FamilyMint.com was born. FamilyMint is a full time endeavor for both Masterson and Eusebio.
"Our goal was to develop an intuitive tool that parents can easily work into busy schedules and that visually shows kids in a fun way how their money can work for them," says Eusebio. "What's different about FamilyMint is that the child is in the driver's seat organizing their money, establishing goals and working to achieve them. Parents are the bankers and approve or deny transactions. Plus they can automate allowance, which is a huge relief to many, and even add interest payments to encourage a positive habit of saving money."
FamilyMint has been a family affair for the Eusebio and Masterson families. "Our families were very much part of the decision-making process and served as our first testers and focus groups," says Masterson. "Many improvements have been made because of input from our wives and kids, in addition to feedback from our users." One of these improvements was the addition of FamilyMint Mobile which was just launched in December 2010.
Jeff's 8-year-old son was very intrigued with the automatic interest that was set up for him. It created a great opportunity to teach him what interest is and what the credit union or bank does with the money that's deposited there. "Once interest was explained, he ran around the house screaming 'I'm getting free money for doing absolutely nothing!'" remembers Eusebio.
Masterson adds, "My 8-and 10-year-olds collect Beanie Babies and immediately went in and set up 40 and 36 Beanie Baby goals, respectively. They loved the ability to upload the picture of the Beanie Babies they wanted. The learning experience came when mom and dad were able to explain that with so many goals they might have a difficult time achieving any of them. We were able to help them prioritize and whittle down their wants to something far more manageable."
In both households, FamilyMint is just the way money is handled. "If parents set up FamilyMint with this in mind, then the kids quickly adapt and truly enjoy using it. They all love the ability to create goals and track their progress to goals," says Masterson.
"Seeing the discipline and good habits they are forming with FamilyMint helps us to be more disciplined ourselves. We want to continue to encourage them by our own behavior with money," according to Eusebio. "It takes less than 10 minutes for the parent to set up initially, and teaching kids financial skills is a gift that will keep giving throughout their lives."
Throughout the process, they have been coached and supported by numerous organizations including Great Lakes Entrepreneur's Quest (GLEQ), Ann Arbor SPARK, where they are a virtual tenant of its business incubator, the Ann Arbor New Enterprise Forum, Michigan Small Business Technology Development Center, Accelerating Michigan Entrepreneurs, and the Oakland Macomb SmartZone, OUInc. Last June, they won GLEQ's business plan competition for "New Business Idea" category.
"Michigan is a great place for a startup company providing numerous opportunities for help from developing a business plan and perfecting your pitch to providing business friendly loans and valuable resources through business incubators and accelerators," says Masterson.
###