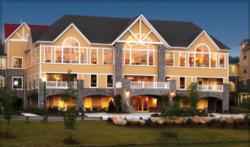 "There's a great deal to learn from our website and brochures, but it just doesn't compare with a visit."
Atlanta, GA (Vocus/PRWEB) December 14, 2010
Park Springs Holiday Open House
Sunday, December 19 and Tuesday December 28
Park Springs is inviting the public in to see what makes the beautiful, vibrant community tick. The Holiday Open House events will be a unique opportunity to go behind the scenes and experience the Park Springs lifestyle.
Guests are welcome to stroll through the community during the Open House – either on their own or with a guide. No sales pitch, no pressure. Just a relaxing visit and a chance to tour five furnished homes and meet the owners, Executive Chef, Residency Counselors and Park Springs Members.
Retirement Redefined
Park Springs Members fill their days with enriching people and experiences. They do it with confidence in a secure future. That's because, as a continuing care retirement community (CCRC), Park Springs offers residential and health care options to accommodate changing circumstances. Park Springs gives Members and their families the peace of mind other retirement communities just can't provide.
"There's a great deal to learn from our website and brochures, but it just doesn't compare with a visit," says Residency Counselor Mark Lenox. "There's a warmth here – a combination of fine living and fun that you really have to see first hand."
Quality You Can Taste
The Park Springs Open House will include the main dining room, Market Café Bistro and Springhouse Grill. Other key venus open to the public will be the outstanding fitness center, library, world-class health center, general store, pub and art studio. Beyond the physical beauty is the unique way Members use these facilities to create a lifestyle of their choosing. It's an engaging lifestyle many describe as "second to none."
From learning, dining, volunteering and exercising to making music and hosting family gatherings, Park Springs Members are engaged in life. The community is a reflection of their talents and curiosity. Members take the lead – creating clubs, organizing lectures, launching art shows and planning trips.
The result is an amenity-rich, multi-layered lifestyle. Says long-time Member Avis Fox, "There actually is more to do, more to see and more people to get to know. I'm busier now – by choice – than I was before I moved to Park Springs!"
Location to Love
Park Springs is adjacent to one of the Atlanta metro's most beloved natural resources – Stone Mountain. The surrounding park provides not only a beautiful backdrop, but a giant back yard where Members walk, play golf and entertain visitors.
There's a restful, natural quality to the setting, but it's not a bit remote. In no time at all members can be enjoying the symphony in Midtown Atlanta or dining in a hip restaurant in Buckhead. Park Springs makes it easy to take advantage of the area by providing transportation to social and cultural events, shopping and personal appointments.
Open For You or a loved one.
During the Open House event, and at other times by appointment, guests can learn more about adding comfort and security to their life, or to the life of someone dear to them. Park Springs warmly opens its doors Sunday, December 19 from 11-3 and Tuesday, December 28 from 1 to 4pm.
Visit ParkSprings.com or call 800-844-5354.
Park Springs is a 54-acre campus style Continuing Care Retirement Community developed by Isakson Living and managed by Life Care Services, LLC. Equal Housing Opportunity. ADA compliant. 500 Springhouse Circle, Stone Mountain, GA 30087.
###