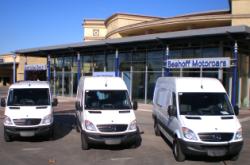 San Jose (Vocus/PRWEB) December 14, 2010
According to owner, operator Ray Beshoff, "We are honored that Beshoff-MotorCars has been chosen to bring the new Sprinter Van to San Jose. It's a true Mercedes Benz vehicle in every way and adds an exciting new dimension to the entire Mercedes line."
The Sprinter can be purchased as a cargo van, passenger van or in a cab & chassis configuration giving the commercial or residential customer the ability to design the van to suit individual needs. It can be ordered in a selection of colors and boasts significant advantages in fuel economy, payload and interior volume over other domestic brands. The vehicle gets over twenty miles per gallon and with a large twenty-six gallon tank, the owner can enjoy over 520 miles before having to refuel. In addition, the Sprinter maintenance is easy and economical. Oil changes and service occur together at 10,000- mile intervals instead of the usual 5,000 of other vehicles of this type. Customers should also be aware that President Obama's new business tax outline for 2010 gives new Sprinter Van owners the ability to write off up to one third of the purchase price.
The Sprinter Van first came to the US in 2001 under the name Freightliner and was manufactured in Germany by Daimler AG. In 2004, it was re-branded and distributed as the Dodge Sprinter reflecting the relationship at the time between Daimler AG and Chrysler (Dodge). But with the decoupling of Daimler-Chrysler, it became clear to researchers that the US truck market was ready for a range of Mercedes-Benz quality vans. The first Mercedes-Benz Sprinter vans arrived in the US in mid-2010. Its distribution was awarded to only a few, specially selected Mercedes-Benz dealerships throughout the country.
Mr. Beshoff stressed that, "Getting Sprinter is a real feather in our cap. It shows how much Mercedes-Benz of North America values what we have accomplished here. Over the last eight years, we have done an excellent job for Mercedes-Benz and winning this was a much-appreciated reward for a lot of hard work done by some wonderful employees here at Beshoff. We feel confident that we can expand the Sprinter market in the same way we grew Mercedes-Benz sales in the Bay area from 2003 onwards. We are looking forward to 2011 and beyond with optimism as the car business continues to rebound and strengthen."
Beshoff MotorCars, at the corner of Tully Road and East Capitol Expressway in San Jose, has been an industry leader and innovator since opening in 2002. The showroom is the largest and most technologically advanced in Northern California. In the spirit of innovation, Mr. Beshoff has complied with Mercedes-Benz of North America's directive that all dealerships nation-wide transform to the new high-tech AutoHaus style. Like many European examples, the mix of traditional and modern elements creates an exciting contrast adding a new vitality to the premises.
When describing the new look, Mr. Beshoff said, "We've added a little German modernism to our Tuscan-style. The light and glass compliment the state-of-the art Infiniti building across the street. Together they add a new energy and excitement to our corner of San Jose, especially at night." Mr. Beshoff is also the owner & operator of Beshoff Infiniti located directly across the street at the Tully Road and Capitol Expressway intersection.
Mr. Beshoff's dealerships provide direct employment for over 140 people. He is very involved with many local civic, business and charitable associations.
For more information about the Sprinter range of vehicles, please call Sprinter Sales Manager, Will Eugenio at (408) 239-2329 or contact the Mercedes dealership at (408) 239-2300. Beshoff Infiniti can be reached at (888) 745-7611.
###