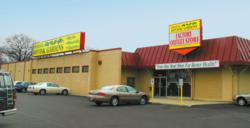 Hobart, IN (Vocus/PRWEB) December 17, 2010
Last-minute shoppers in Northwest Indiana are invited to attend a Holiday Open House on December 21 and 22, 2010, at Indiana Botanic Gardens, Inc. 3401 West 37th Ave (Ridge Road), Hobart, Indiana.
While there, visitors can enter into a raffle for a premium gift basket, a $50 retail value. The basket contains a wide assortment of more than 15 Botanic Choice and Botanic Spa products including beauty creams, bath salt, liquid extract, essential oil, Omega 3 supplements, sports bottle and The Herbalist book of plants and remedies. Personalized consultation on vitamins and herbs is available, if requested, along with free herbal tea and cookies.
The herbal tea flavor brewed in the store changes daily, each one delicious and healthy, so visitors are welcome to stop by as often as they wish. In fact, according to Tim Cleland, President, many people come in exclusively for the tea. Those who linger in the store will find an array of last-minute gift ideas including wicker gift baskets with liquid soaps, teas, and spices. Perfumes and beauty creams are also particularly popular during the holiday season. Prices for most products range from $5.99, making them ideal for stocking stuffers, hostess gifts or last-minute presents.
New this year is a line of vitamins for dogs and cats from Dr. Goodpet. All products in this line contain no yeast, wheat, corn, lactose, salt, sugar, malto-dextrin, artificial flavors, artificial colors or any other potentially harmful or allergenic ingredients. And it's been formulated so even the most finicky pets will enjoy the taste. Pure Shampoo, Homeopathic Good Breath, and vitamin supplements round out the product line.
About Botanic Choice
Indiana Botanic Gardens, Inc. is a leading provider of more than 500 high-quality nutritional supplements, including its best-selling Apple Cider Vinegar Plus with Green Tea for weight loss support. Their line of vitamins, aromatherapy, homeopathy, and herbal remedies are sold nationally and internationally through their catalogs and their web site at BotanicChoice.com. Their retail store is located at 3401 West 37th Ave, Hobart, Indiana (800-644-8327). Customers can call anytime for a free catalog or stop by the store weekdays 9AM-5PM or Saturday 9AM-4PM. The store will close at noon on December 24 and reopen on December 27.
# # #