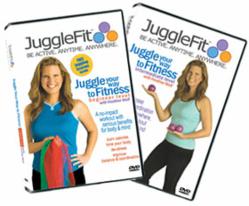 People often remark that they never knew juggling was exercise, and are surprised to find out it burns 280 calories an hour even when first learning.
Gulf Breeze, FL (Vocus/PRWEB) December 29, 2010
JuggleFit announced today it will be launching its "Juggle Your Way to Fitness in 2011" promotion, discounting its DVDs to $11 during the entire month of January. At a time when many want to get in shape for the New Year, the company is offering a convenient, affordable alternative to gym visits and strict exercise regimens.
At the start of every year, resolutions and commitments are made to get in shape and lead a healthier lifestyle. These goals seem easier to attain while enjoying more free time during holiday vacations, but when people get back to the grind in January, many find it difficult to stick with exercise routines. JuggleFit makes it easier to fit in exercise with a workout that can be done almost anywhere at any point during the day. Whether juggling in the office during a break, or while waiting for anything from water to boil to a spouse getting ready to go out, the exercise offers a quick calorie burn that can be inserted at multiple points throughout the day.
"People often remark that they never knew juggling was exercise, and are surprised to find out it burns 280 calories an hour even when first learning," says JuggleFit founder and CEO Heather Wolf. "I call it an exercise that doesn't feel like exercise, since the focus is on learning a new skill which diverts attention from the feeling of having to work out. Burning calories happens to be a great side effect."
JuggleFit has produced two DVDs that retail for $19.99, both of which will be offered for $11 on the JuggleFit.com website during the January promotion. In the Juggle Your Way to Fitness Beginner Level DVD, Wolf, an ACE-certified trainer, guides exercisers in learning to juggle with slow-moving juggling scarves, which are included with the DVD. A balance workout and practice tips are also part of the package. The intermediate-level program moves on to the next step of juggling with balls, and includes a balance workout, upper body toner workout, and meditation segment.
Wolf developed the Juggle Your Way to Fitness DVD program through experience and feedback acquired from teaching thousands in JuggleFit classes. "I started to notice common obstacles exercisers experienced when learning. After experimenting with different ways to help people get past these small roadblocks, I discovered simple solutions which are the foundation of the JuggleFit method." Wolf boasts a 95% success rate of teaching people to juggle with scarves in 10 minutes or less. "It's my job to get people juggling for fitness, and, as fun as it is, I take it seriously."
JuggleFit founder Heather Wolf is available for interviews and on-site demonstrations of the JuggleFit program. Contact Heather at (850) 932-5570 or media(at)jugglefit(dot)com to request a sample to review.
About JuggleFit LLC
JuggleFit LLC is the producer of the Juggle Your Way to Fitness DVDs, which teach juggling in a simple way and provide at-home workouts for brain and body fitness. The company has taught thousands of people to juggle and lead a healthy lifestyle through its live classes and workshops. JuggleFit LLC is also the creator of the Shake a Snack and JuggleFit Tracker apps for iPhone and iPod touch.
JuggleFit DVDs and products are available at http://jugglefit.com.
For further information please contact JuggleFit LLC at (850) 932-5570, info(at)jugglefit(dot)com, or visit http://media.jugglefit.com.
###