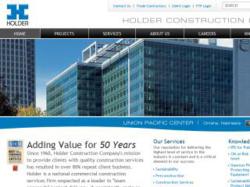 Atlanta, GA (Vocus/PRWEB) December 23, 2010
Northridge is proud to announce that it has won a 2010 Best of Industry WebAward from the Web Marketing Association. The Best of Industry award was presented to Northridge for its design and development of the Holder Construction website which is based on industry-leading Microsoft technologies including SharePoint and SQL Server.
The "Best of" distinction from the Web Marketing Association recognizes the single top scoring entry within an entire industry. The SharePoint-based Holder Construction website won the Best of Construction Industry category. Other winners of the "Best of" award this year included AT&T, Dodge, Iron Mountain, Kiplinger, Mattel, McKesson, NBC, National Geographic, Pepsi, and University of Notre Dame.
Website entries are judged on seven criteria including design, innovation, content, technology, interactivity, copywriting, and ease of use. The award-winning Holder Construction website excelled well beyond industry averages in all seven criteria. Shared excerpts from this year's WebAwards judges' comments on the Holder Construction website include "fresh and clean (design) and clearly speaks to its target audience," "Holder (website) feels open and modern," "copy is appropriate and well written," "great use of project portfolio," and "great work."
The Holder Construction website was developed by Northridge leveraging Microsoft SharePoint as the web content management (WCM) platform. The solution contains out-of-the-box SharePoint features as well as Northridge-developed custom functionality and web parts. The combination of standard and customized functionality creates a best-of-breed website solution that is easy to maintain and extend. The compelling design of the new Holder website was created by Northridge Interactive, the user experience and interactive marketing division of Northridge.
"We are excited to be recognized with a Best of Industry award for the Holder website", commented Rob Patten, Northridge CEO. "It is especially rewarding since it is one of the early wave of public websites leveraging SharePoint that effectively illustrates how SharePoint can be utilized to allow non-technical users to manage their online presence with ease."
About Northridge Systems
Northridge Systems enables enterprise excellence through Collaboration, Productivity and Business Insight solutions. By combining pragmatic business consulting, advanced technology services, and proven delivery methodologies, Northridge delivers measurable long-term results for clients throughout North America. A nationally recognized award-winning firm, Northridge was founded in 1999 and is a Microsoft Managed Partner and Microsoft Gold Certified Partner.
Northridge clients range from well-established firms to Global 2000 companies including industry leaders such as Acuity Brands, Allstate, Atlanta Gas Light, Autotrader.com, Coca-Cola Enterprises, Electrolux, Goodwill Industries, Microsoft, Newell Rubbermaid, Time Warner Cable, Verizon Wireless, The Coca-Cola Company, and W.C. Bradley.
In assisting clients to reach their business goals, Northridge leverages leading-edge Microsoft technologies including Microsoft SharePoint Server, PerformancePoint Services, FAST Enterprise Search Platform (FAST ESP), SQL Server, .NET Framework, and Windows Server.
Northridge Systems (http://www.northridgesystems.com) is a division of Northridge.
###