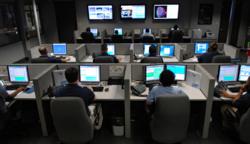 We have been able to generate real RMR through the Acadian solution which now opens up customers to us who were not real candidates for electronic access control before.
Lafayette, LA (Vocus/PRWEB) December 30, 2010
Dealers and integrators seeking to offer customers a cost-effective, easy to manage access control service, can now to turn to Acadian Monitoring Services and its Acadian Access program. Acadian Access is a Hosted and/or Managed Access Control solution offered from Acadian Monitoring Services UL listed Central Station network. Acadian Access offers customers a secure, efficient single door to multi-door electronic access control solution without having to invest in expensive head-end architecture or additional computers and software at the customer location to manage the system.
Acadian Monitoring Services integrates with HID EDGE and VertX technology to address access control and security management needs ranging from small, remote facilities to large campuses/complexes. Acadian's solution builds upon open architecture standards to ensure interoperability with a wide range of peripherals and information sharing with database brands like SQL®, Oracle®, and SAP®. Our platform offers an easy and affordable migration path between each product to preserve the value of your investments.
Traditional access control systems require the installation of a dedicated computer and access control software at the user's location – an expensive up-front investment that requires the user to learn how to use the software to set schedules, create door groups, add and delete users to the access control database, run reports, initiate database backups and provide management of the access control system. Acadian Access eliminates these requirements and provides our customers a secure facility without having to develop access control expertise. And, with the reduced costs of the program, doors once considered too expensive for access control can now be included as part of your security program.
"The Acadian Access service is something that we believe makes us unique in the central station industry," said Kenny Savoie, Director of Operations for Acadian Monitoring Services. "This is an ideal solution for a business that does not want heavy up-front costs and does not have the time or resources to learn and manage a new system. From the dealer or integrator perspective, it is yet another RMR channel offered by Acadian that allows our customers to differentiate and better brand themselves in the marketplace, while realizing new revenues through a new hosted solution."
"The Acadian Access program eliminates software installation and hardware configuration, making it easy for Acadian's dealers to provide their own hosted or managed access control service. AMT is excited to be part of this Software as a Service (SaaS) program," states Gary Larson, President AMT, Inc.
Savoie explains, "The service does not require any software or hardware investment, PC's, by the dealer or end user, other than the actual door hardware and readers. The dealer will utilize the head end architecture established by Acadian. The dealer will then establish a link on its own website, with customers using the Acadian view portal, but branded with the dealers logo, to gain entry into the access control database servers. All access control programming, cardholder changes and report generation are initiated via a web browser from any internet-connected PC. With this web browser access control service, the dealer can offer its customers two optional access control services - hosted or managed."
Monitor Door Events
In addition to a hosted or managed service, Acadian has the ability remotely monitor any door with an associated camera for any alarm or security breach condition, such as a door forced, door held, unauthorized user, etc. Acadian utilizes an open-architecture alarm automation platform that can receive such conditions, and trigger a camera associated with each door to confirm and verify each door event and provide appropriate response in accordance with customer protocols.
Key Advantages

Monitor and control your doors over the web from any PC with no software to install; you are simply joining an existing system.
Control doors in locations that do not justify their own installation.
Eliminate the hidden costs of maintaining and replacing servers and supporting infrastructure and remove the burden from your IT staff to learn and maintain another complex system.
Unlike traditional systems, Acadian Access allows you to try a small system at no risk and grow as needed.
Daniel Weiss, Director Sales and Marketing, Internal Control Systems Texas, is an Acadian Access dealer and states, "The hosted access solutions Acadian is offering is simplistic and cost effective making it attractive in smaller access control markets. We have been able to generate real RMR through the Acadian solution which now opens up customers to us who were not real candidates for electronic access control before."
Visit Acadian Monitoring Services to learn more.
About Acadian Monitoring Services, LLC; America On Watch Network
Acadian Monitoring Services' alarm center is a UL listed Central Station located in Lafayette, LA, with additional fully redundant, bi-directional backup centers in Baton Rouge, LA, Chicago, IL and Austin, TX. The center has achieved Five Diamond Certification from CSAA and also holds a UL 2050 certification. Acadian partners with security dealers/integrators across the U.S. to provide a full portfolio of monitoring solutions for security, medical, video, access control, Telehealth and GPS fleet tracking.
# # #